QMS Media today announced that is has been appointed to manage the sales and marketing activities for the Essendon Airport outdoor advertising portfolio by NM Media, effective November 1, 2019.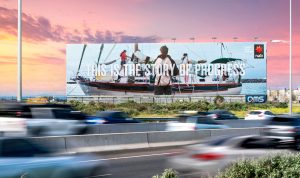 NM Media Commercial Manager, Simon Peeke said "We are delighted to be working in collaboration with both QMS and Essendon Fields to maximise the commercial potential of the Essendon Fields precinct for advertisers."
The portfolio consists of eight existing static billboards, inclusive of the coveted 'Big Tulla' landmark static sites, that line Melbourne's Tullamarine Freeway, the major gateway connecting Melbourne Airport and the north west with the CBD.
QMS Australia CEO, John O'Neill told us "The Essendon Airport portfolio complements the strength and dominance of our existing Melbourne digital billboard portfolio, reinforcing our number one position in this market. The development of new quality landmark digital billboards in this high profile location will further increase the significant impact and memorability for our advertisers."
Plans are underway to develop four landmark digital billboards in early 2020, providing even greater impact and campaign flexibility for brands on this highly sought after arterial, which impacts more than 3.8 million vehicles each month.