Universcience, which includes the "Palais de la Découverte" and the "Cité des Sciences et de l'Industrie", is one of the leading science centres in Europe and the fourth most visited cultural venue in France with more than three million visitors per year. Universcience's goal is to help people to get to know and love science today, as well as promoting scientific and technical culture.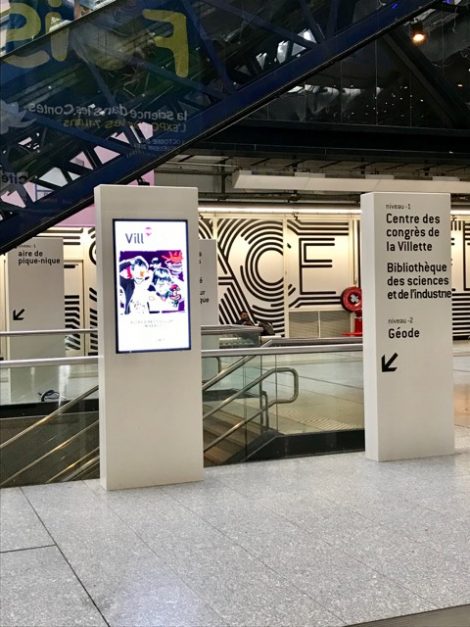 With their existing solution no longer suiting their requirements, Universcience's team looked for an ergonomic digital signage solution, with easy control and the ability to integrate with their ticketing system.
Universcience's team have completely redesigned the organization of their digital signage network around the visitor experience. Entrance, exhibition spaces, convention centre, ticket counters, commercial spaces… Universcience's digital signage network is made up of around 50 broadcast points managed by TELELOGOS [1] Media4Display software.
Various types of content are broadcast: videos, tweet wall, events of the day and news.
Media4Display also provides real time display of ticketing information. The software captures data from the ticketing system and displays information such as the remaining places available of paid spaces. This information, updated in real time, allows visitors to know the availability of upcoming sessions.
Within Universcience, around ten contributors from various departments are taking part in the creation and circulation of media and information via Media4Display, with complete autonomy.
Emilie Bravo Universcience's Management of Audience and Communication Development said "Media4Display has allowed us to gain flexibility of use: fast scheduling, creation of specific exclusive operations, modification and removal of text and sequences".
Telelogos is an ISV dedicated to digital signage and device management. For the past 37 years, Telelogos has been developing professional software solutions, which today provide a unique suite of products for our partners and customers worldwide. Telelogos has built up a solid base of more than 2,000 customers (500,000 licenses) from small and medium-sized enterprises to the largest corporations across the globe.