Channels that offer the 'best of both worlds' for branding and activation are a proven way to bridge the brand gap – a key finding from Brand Gap 2, unveiled at JCDecaux UK's Upfronts earlier this week by Justin Gibbons, Founding Partner of Work Research.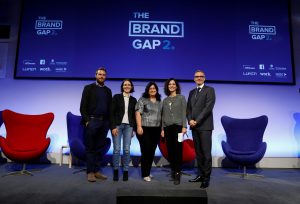 Brand Gap 2 shows that the brand gap is now a priority issue at boardroom level and includes a 'Charter for change' – eight steps to bridge the brand gap.
Last year's Brand Gap reported on the gap between what advertising practitioners knew to be best practice (achieving a balance between branding and activation), and what they actually do with their media spend.
Brand Gap 2 shows that are now signs of a recalibration of spend. Almost half (47%) said they are planning to move money into channels that do both brand and response.
Justin Gibbons said, "Brand Gap 2 shows that advertisers have moved on from the knowledge that there is an over-reliance on activation, to actively looking at ways of closing this brand gap, with a recalibration of spend towards channels that can do both activation and brand fame. It's interesting to note that Kantar's recent BrandZ insight supports our findings, showing a decline of 3% in the growth of the UK's 75 most valuable brands. In Brand Gap 2, advertisers spoke about 'consideration' as the key metric in need of attention to combat this decline, showing the importance of achieving a balance of branding and activation for the long-term success of brands."
Dallas Wiles, Co-CEO of JCDecaux UK told us "Brand Gap 2 underlines the continuing importance of getting the balance right between branding and activation. In a two-screen world, the public screen and private screen can work together to give brands 'the best of both worlds'. The public screen can deliver fame, reach, familiarity, consideration and trust. As we've seen today from Facebook's 'Better Together' insight and Lumen's research, Out-of-Home can also act as a primer to make the private screen more engaging and work harder, significantly increasing consideration and purchase intent and brand awareness."
Brand Gap 2 shows that DOOH remains the media channel with the most momentum ('reputation on the up') for the second year running. Other big risers in 2019 include Cinema and Radio.
TV and OOH remain the top two channels for brand-building, with VOD and DOOH, their digital counterparts ranked third and fourth. Online display and Social Media continue to be the key activation channels, though there has been growth for DOOH and Radio response campaigns.