Adrian J Cotterill, Editor-in-Chief
Adapt Media, a Toronto-based out-of-home media company, has officially announced its partnership with Ads Alfresco for the large format billboard at 151 Bloor Street West in the heart of Yorkville. Ads Alfresco is a monetization partner within the Canadian advertising industry. Its mission is to create value and increase revenue for publishers and buyers alike.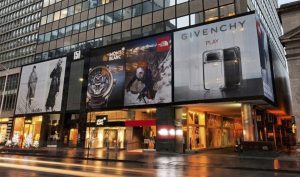 Laura Maurice, SVP of Sales at Adapt Media told us "Being able to represent a large format billboard in one of the most affluent neighbourhoods in Toronto is exciting for Adapt Media and we look forward to showcasing our brand partners to the world".
151 Bloor Street West is located along Bloor Street, near the two busiest intersections in all of Toronto: Bloor / Bay and Bloor / Yonge. Boasting 1,055,768 weekly impressions, this billboard is above the most high-end shopping and dining destinations in the city. 151 Bloor Street West has 6 massive billboards to choose from in one of the most exclusive neighbourhoods in Canada.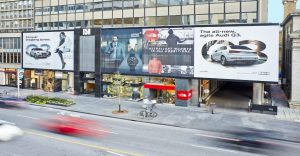 The massive billboard is also equipped with motorized blinds which lower at 7pm every evening to significantly reduce any light visibility issues with the advertising creative.
Adapt Media, a trusted Canadian OOH provider, is focused on providing advertising space at Plaza Premium airport lounges, DriveTest Ontario centres, thousands of convenience stores across Canada and large format billboards. Adapt Media's sister company Chameleon Digital Media is a full-service digital agency with expertise in mobile location data. Now in its 21st year in business, Adapt Media has grown to include street-level and in-store advertising in over 500 cities and towns across the nation and is well known for building new custom ad networks at clients' requests.