Adrian J Cotterill, Editor-in-Chief
JWF Group, Paraguay's Largest Local DOOH Company, has selected Quividi, the World number 1 audience & campaign intelligence platform for DOOH, to measure and analyse the audience of its network of large indoor and outdoor screens and optimize the campaigns of its advertisers.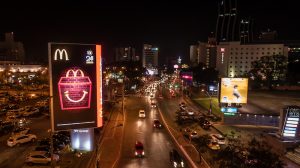 Jorge Wasserman, Director, JWF Group said "Understanding audiences and performance of our state-of-the-art billboards is essential in the today's Digital Out of Home landscape. Now we have measurement of content-level performance, which is going to provide a new level of transparency and accountability to our customers", said Enrique Aquino, IT Manager, JWF Group. Advertisers are increasingly demanding and having detailed analytics from a trusted technology gives us a competitive edge."
JWF Group operates 36 digital billboards as well as 21 digital place-based LED screens located in retail, restaurants, malls, airports and bus stations. LATAM, Coca-Cola, AB InBev Group, Samsung, McDonalds, Heineken, Tiffany & Co., Land Rover are amongst the brands that regularly advertise on the network.
With Quividi's audience & campaign intelligence platform, JWF Group will be able to give advertisers and agencies a precise understanding of their campaigns' audience dynamics and performances, as well as actionable insights to optimize their communication strategies and ROI. Marketers will also be able to run real-time contextually-relevant campaigns that drive ad engagement and sales.
Ke-Quang Nguyen-Phuc, Quividi's CEO told us "JWF Group's forward-looking approach to DOOH communication is reflected once again with this partnership with Quividi. We are glad to partner with Paraguay's leading local DOOH network and to continue to grow our footprint in South America."
Brands use Quividi to turn DOOH & Digital Signage into a powerful medium, boosting engagement, traffic and sales. With their platform, marketers have the unique ability to test, measure, optimize and deliver data-driven contextualized content to best engage and convert audiences, while respecting privacy.