Adrian J Cotterill, Editor-in-Chief
Having spent some time in India, I know that the weird, wonderful, ugly, bizarre, Heath Robinson approach to digital signage and digital out of home can sometimes work and often rarely raises an eyebrow.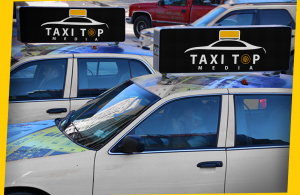 Taxitop Media is an Indian outdoor advertising company that currently provides wrap advertisements for taxi cabs. Soon though they are about to launch digital outdoor advertisement using these incredibly ugly screens on the top of the taxi cabs. Their initial phase will see pilot projects in Mumbai and Kolkata, with 50 screens in each city.
Like FireFly in North America, TaxiTop Media has collaborated with Uber drivers and the pitch is that the most important facet of TaxiTop's model is increasing the earnings of driver partners by almost Rs.45000-50000 a year.
Taxi top Media has also partnered with Uber to execute fabrication and pasting of advertising materials on vehicles, starting in Kolkata. The press release stats that their association with Uber is not limited to external advertising spaces, but extends within the taxis themselves, through headrest danglers and samples.