Adrian J Cotterill, Editor-in-Chief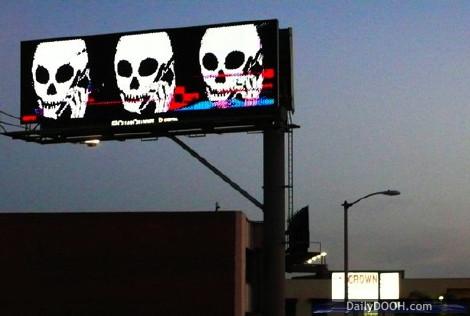 The problem with stories and especially pictures of 'hacked' billboards is whether to believe them or not – it's more likely that someone has been making creative use of Photoshop (or the billboard owner is faking it themselves for a bit of guerilla / viral marketing) !!!
The picture above is take from Gizmodo (not sure whether that adds or detracts to the story's credibility to be honest after the stunt they pulled with screens at CES earlier this year).
It's allegedly Southern California (billboard looks like it says Clear Channel). Frankly we doubt that it was a hack but the 'threat' (of hacks) if you will – perhaps 'the warning to all sysadmins" is actually just be very, very careful that it doesn't happen to your / our industry's networks!!
The desire to vandalise (traditional) billboards is not a new phenomenon, folks like the (err when there is enough sadness in the world NOT a great name we feel) "The Billboard Liberation Front" have been at it for a while (1977 they claim) and their web site, very much like the infamous terrorist's cookbook gives detailed instructions on what, when and how to do it.