Amscreen [1] has started its BP service station rollout in the UK and our fears that it would be horrible, amateurish and not heed the lessons of years gone by are unfortunately well and truly founded.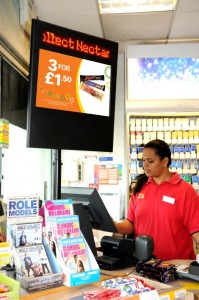 The initial seven stores, including prime sites in London and Buckinghamshire, are the first to begin broadcasting what is being called the Amscreen Convenience Store Network – Digicom of course have been appointed to do Media Sales for this network [2].
Digicom we believe should look long and hard at themselves and the values they told everyone they would uphold in the industry when they first launched – we distinctly remember Digicom saying to us "we will only take on good networks" because there are far too many poorly thought out networks out there already and lo' and behold what do we have here, a NEW poorly thought out network!
Perhaps all we need in the UK is for media buyers such as Posterscope and Kinetic to boycott such a horrible network and it might go away and die or THEN maybe Amscreen / Digicom would listen to the expert advice that is freely available in the public domain and then re-attempt to do this network justice and do it properly and professionally.
After all, the UK wide network COULD carry messages from national and regional advertisers eager to reach the 7 million motorists who use BP forecourts each week.
For those interested in detail, the first stores that have installed the Amscreen Convenience Store Network are: –
Wavendon Gate Connect, Milton Keynes
Walthamstow Connect, Chingford, London
Flyover Simply Food Connect, Hammersmith
Bradwell Abbey Simply Food Connect, Milton Keynes
Chicheley Park Connect, Newport Pagnell
Three Counties Connect, Olney, Buckinghamshire
Viking Simply Food Connect, Milton Keynes, Buckinghamshire
BP should be unhappy too BUT perhaps they are too star struck by soon-to-be Lord Sugar and all the reality TV star apprentices that turn up for meetings?
At this rate we believe that they (BP) will soon rue the day when they screwed the would be vendors down on price so much (and this is an oil company remember!!) that CAN Media pulled out of the tender process [3] (who would undoubtedly have done a mighty fine job on this network, just like with the others that they have done) leaving Amscreen the only vendor in town willing to play (or should that be "willing to pay") 😉