Adrian J Cotterill, Editor-in-Chief
This week, leading Out of Home media and infrastructure company Clear Channel celebrated the installation of its 100th Billboard Live screen, as the company continues to expand its digital 48 sheet network across the UK.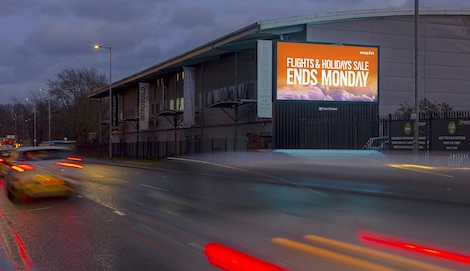 The 100th screen was installed in Manchester, with new screens now in London, Glasgow, Liverpool, and Birmingham. Billboard Live is set to expand into additional towns and cities across the UK, such as Edinburgh, Wolverhampton, and Hull, in order to continue building a comprehensive national footprint. The company's aim is to install 325 screens by the end of 2020.
Clear Channel's new digital billboards are the latest in screen technology. Super slim and super lightweight, the state-of-the-art screens offer high quality resolution and a screen pitch of 6.9mm.
Joint Managing Director at Clear Channel, Will Ramage told us "The nationwide roll-out of Billboard Live is our latest exciting and challenging project, and it's fantastic to have already reached 100 screens. Building on the success of our Adshel Live rollout, we are now evolving the much loved and ubiquitous 48-sheet to deliver a national scale digital network in towns and cities across the UK."
As part of Clear Channel's commitment to become a Platform for Brands and A Platform for Good, the Billboard Live rollout will also be accompanied by the installation of vertical meadows into selected sites across the UK. The first of these are planned to be installed in the coming months, in line with the planting season, and are designed to encourage biodiversity and visually enhance urban areas.