The Outdoor Media Association (OMA), this week released survey results from the industry-wide Look Up campaign, showing that people are (indeed) Looking Up more.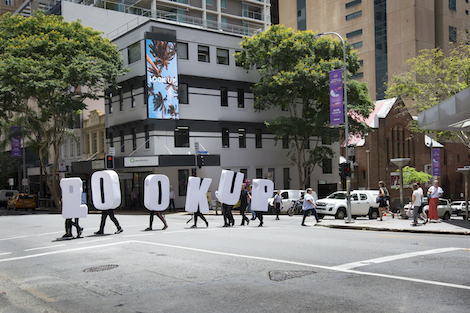 The campaign first appeared on signs in January 2019 and is based on findings from world-renowned neural and systems complexity specialist Dr Fiona Kerr. Dr Kerr's research found that the simple act of 'looking up' can have life-changing benefits, by encouraging connection with the world around us and each other. The Outdoor Media Association ran the campaign for a second phase in July 2019.
The research garnered from the January campaign which ran for four weeks showed that the campaign was recalled by 33 per cent of people and of those people, 50 per cent said they were making an effort to Look Up more, and 30 per cent talked to a friend or family member about the campaign.
The research gathered from the second phase in July where the campaign ran for eight weeks showed a substantial increase in engagement with 45 per cent of people recalling the campaign; 67 per cent saying they were making an effort to Look Up more and 48 per cent talking to a friend or family member about the campaign.
OMA CEO Charmaine Moldrich, told us "We are very happy with the results of our Look Up campaign. It is something that obviously resonated with the public. The results speak for themselves with more and more people engaging with the campaign and changing their behaviour. We are pleased that we are inspiring people to Look Up more. When you Look Up you not only see lots of things – including signs, brands, and the world around you – but it helps your brain to make more connections."
She continued, "The research from the 2019 campaign has reinforced what we know to be Out of Home's strengths: its effectiveness in brand building and behavioural change, as well as its ability to drive people to seek more information online."
The results of the 2019 campaign are available on the OMA website and include proof of online engagement including an increase in organic and paid search by 10 times.
As a result of the campaign's success in 2019 the OMA and its members will continue to inspire the nation with this simple message. The Look Up campaign will be launched again on Australian digital signs nationwide for four weeks. Included in the 2020 creative will be the three images that won the Instagram competition held in July 2019, which was open to members of the advertising industry.