Russ Curry, Ministry of New Media
The first in-person event in Canada for some time, namely the Ministry of New Media's AdTECH: OOH – Toronto Conference, takes place next Wednesday October 6, 2021 and the desire to network safely, get back to business and listen to a whole bunch of expert speakers is so high that the event is now SOLD OUT.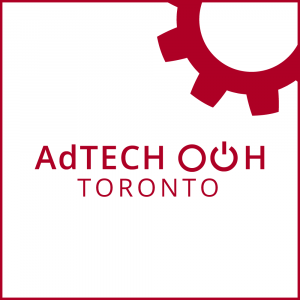 The conference will be chaired by Global Head of DOOH at Yahoo, Stephanie Gutnik with a keynote by COMMB President Amanda Dorenberg.
Speakers include Place Exchange's Haley McClernon, Cineplex Media & CDM, Cineplex Entertainment's Tom Woyzbun, Novus Media LLC's Debbie B. Drutz, Vertical Impression's Nicolette Leonardis, OUTFRONT's Brendan Dillion, Allvision's Jennifer Bidwell, PATTISON Outdoor's Jessica Littlejohn, Vistar Media's Scott Mitchell, Novus Media LLC's Sarah Kim, PHD's Angie Genovese, Broadsign's Adam Kahansky, Salt XC's Alex Buckby, CarDoor's Matthew McKenzie, Kinetic's Kevin McDonald and Hivestack's Ben Bookbinder.
Covid Rules
Proof of vaccination is required. Cineplex staff ("Cast Members") will greet the attendees at the entrance, asking them for their proof of double vaccination (two doses plus 14 days). Once received, Cast Members will direct attendees up the escalators which will take them to the upper lobby where the registration desks will be setup.

Below are some important guidelines to note for the event.

Congregating in the lobby before or following the event is not permitted
Please respect physical distancing in the lobby, in bathrooms and other places in the theatre
Masks – All guests must wear masks. Masks can be removed when eating or drinking only
F&B to be served by Cast Members during break time. They will need to go out in groups to accommodate social distancing and then return to the Auditorium to drink/eat. 30 minutes break time should be able to accommodate this process.
Make sure to drop off your garbage at the exit of the room, in the receptacles outside the auditorium
Guests who experience symptoms of COVID-19, the flu or a cold should not enter the theatre

And finally here's a link to the Ontario proof of vaccination guidelines