Adrian J Cotterill, Editor-in-Chief
Campaign Magazine wrote this week that Jonathan Lewis and Global Outdoor had departed ways, a week after we asked, in what is probably our most popular post ever, 'Have Global Acquisitions Lived Up to Expectations?'.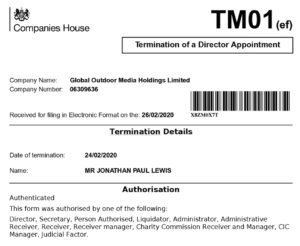 Whilst Campaign can be applauded for finally catching up with our breaking story a week earlier, it is still extraordinary to think that in their editorial they tell you the reason why he did not leave but NOT the reason why he left.
Last week, Global staff were allegedly told that the reason why he wasn't in the office was because he was 'on holiday'. Read into that what you will.
The latest rumour, that quite simply will not go away, is that group chief executive Stephen Miron, who agreed to pay as much as GBP 750m for the three assets (Primesight, Jonathan Lewis's Outdoor Plus and Exterion Media), may have been asked to fall on his sword.
This is bizarre if true as he is instrumental in Global's radio business. Surely he will not be judged, simply on the creation of 'Global Outdoor'? Anyway, no doubt we will hear more shortly.