The DPAA powered Initiative that is WE.DOOH, which unites the women working across the Digital Out-of-Home ecosystem, is putting on a webinar on Tuesday, April 7, 2020 between 11:30 AM – 12:30 PM ED aimed at helping folks 'Learn The Art and Science of Fearless Negotiations'.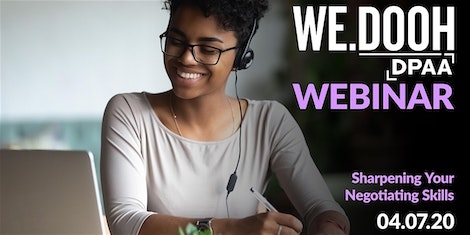 Does 'negotiation' sound like a dirty word to you? Does it fill you with anxiety because you equate negotiating with haggling over a used car or flea market find? Or have you convinced yourself that it is a skill 'you don't have' and so you shy away from it? Do you wonder when to make -or accept- an offer?
If any of these questions strike a chord with you, then this webinar is for you. Attendees will:-
Lose the 'head trash' that holds them back from proactively preparing for a negotiation, and instead will understand how to assess value on both sides to develop a strategy where they are in control.
Learn how to approach a negotiation from a win-win mindset, where both parties can maximize value and achieve their objectives .
Build a framework for building long-term, positive relationships that increase trust and credibility.
Research shows women are less inclined to negotiate when it comes to business and professional negotiations–and the reality is we all need to negotiate on an everyday basis, whether it's for maximizing a client deal, a promotion or in your personal life. That is why this workshop will address the psychological barriers and art and science of negotiations to provide you with the fundamental skills to feel fearless when trying to achieve your desired outcome.