Adrian J Cotterill, Editor-in-Chief
DPAA, the leading global organization for all advertising and content outside the home, has announced that Adload Technologies has joined the association.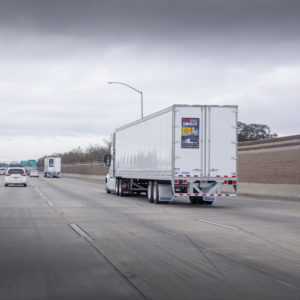 Barry Frey, DPAA President & CEO, told us Adload Technologies has found a unique and powerful way to turn tractor trailers into moving billboards for brands, presenting a tremendous opportunity for trucking companies and advertisers alike. We look forward to helping Adload make inroads into the digital advertising community as members of DPAA..
Adload Technologies installs smart digital displays on the back doors of commercial trucks, providing a unique platform to reach audiences across all roadways. Adload digital displays give transportation companies an additional source of income without disrupting everyday delivery operations. For advertisers, Adload utilizes geofencing technology to enable location targeting and the ability to alter messages depending on the trailer display's location, time of day, weather, current events and more.
Ranjit Phagura, CEO, Adload, said, "Barry and his team have done a great job of aiding the growth of digital out-of-home, and we are enthusiastic about being part of this effort."
To deliver on their promise of 'Digital Out of Home Everything' DPAA functions as a business accelerator and concierge/consultant for members. Membership in the DPAA community brings many benefits, including admission to quarterly "mini summit" meetings with ad industry and DOOH leaders; access to curated VIP tours and meetings at CES and Cannes Lions; an extensive database of research, best practices and case studies; tools for planning, training and forecasting; social media amplification; publication discounts; an opportunity to participate in media partnerships; insights on software and hardware solutions; further integration into the advertising ecosystem as part of the video everywhere conversation and marketing campaign; and more. DPAA's 2020 Video Everywhere Summit, the industry's largest one-day media event, will be held Tuesday, October 13 in New York.