Adrian J Cotterill, Editor-in-Chief
Read this now, amidst our current crisis and this is going to seem like a lifetime ago, but Omdia (formerly IHS Markit) has reported that the LED video display market revenue soared by 34.7 percent in 2019 as demand rose for fine pixel pitch (FPP) products.
According to the Omdia LED Video Displays Intelligence Service, Global LED video display market revenue totalled USD 5.7 billion in 2019, up from USD 4.2 billion in 2018, Quarterly revenue peaked in the fourth quarter of 2019, at USD 1.8 billion, up 15.9 percent from USD 1.6 billion in the third quarter.
It's clear to anyone that FPP products are opening up new opportunities for LED video displays, providing a level of image quality that previously could only be supported by LCD or incredibly expensive OLED displays. It is surely only a matter of time before FPP LED video displays replace existing flat-panel display technologies in a range of applications, including retail, public space and corporate, to name a few.
Julie-Anne Badier, senior analyst, digital signage and professional displays at Omdia told us "An increasing number of traditional LCD companies jumped on the FPP LED video bandwagon in 2019, intensifying the level of competition in the market. The competitive battle will only escalate in 2020 as FPP continues to get finer and LED video display technology spreads to more application areas."
In an example of the technology's proliferation, Samsung in 2019 announced the availability of 'The Wall Luxury' a massive, 292-inch 8K MicroLED television designed for high-end residential use, further expanding into commercial space with the introduction of 'The Wall for Business' at #ISE2020 earlier this year.
Some highlights: –
Unilumin in 2019 led the global LED video display revenue market, with a 16.9 percent share. During the same period, Absen topped overseas revenue, consisting of the global market excluding China, while Leyard maintained the lead in FPP revenue.
Unilumin is consistently ranked among the top-two brands for revenue market share for all pixel pitch categories, with the only exception of parts in the >=20.00mm size range. The brand held 16.9 percent of the global revenue share in 2019.
Absen led the overseas market, i.e., the global market excluding China, with a 17.2 percent revenue share. The company benefitted from its strong position in the rental market, with more than 31.1 percent of shipments in 2019.
Ranked second overall, Leyard generated 64.4 percent of its 2019 revenue from the <=1.99mm FPP category, increasing its share from 55.8 percent in 2018. Leyard remained the global leader for FPP, both in revenues and units.
A fierce battle is raging in the <=0.99mm category between Leyard and Unilumin. Together, these two brands accounted for 70.6 percent of <=0.99mm pixel pitch revenue in 2019.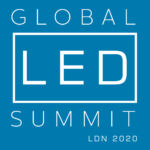 On Wednesday May 13 as part of London Digital Signage Week, IHS Markit's Julie-Anne Badier, Research Analyst – Digital Signage | Technology Research Products & Solutions will be presenting 'The LED Video Market Evolution in Western Europe' at the Global LED Summit.
This event will take place at #SamsungKX in London.