When the world is back on its axis again, brands will be eager to get their messaging out to the global populace to meet their pent-up demand for products and services. OOH will be in a great position to support the quick ramp-up of marketing, brand impact and sales generation for brands to "get back to normality".
[1]Our industry has screens that can offer timely content, so as we await a return to normalcy this is an ideal opportunity to harness the power of these screens to relay useful consumer messaging and relevant PSAs, offering value to society, stronger consumer relationships, engagement and trust.
This is a great time to be good partners, upstanding members of the community, and act as consultants to brands, agencies, advertisers, government and industry in general.
Madwell ad agency [2] in partnership with DPAA, has developed a series of powerful PSAs aimed at combatting the spread of the virus. This campaign 'We are The Countervirus' was designed specifically for DOOH screens, you can see the campaign here [3] and media owners can (and should) request assets and play this out.
Here's some simple 'Business Growth Guidance' for all of us, as we navigate this unprecedented time, and also prepare for a levelling off of the issues and eventual return to life as we know and want it…
Keep in mind that marketers that cut back advertising in uncertain and economically challenged times take longer (and more expense) to ramp back up as their brand awareness, share of voice and market share were all compromised.
In the past, many brands ended up leading their categories when they increased their ad expenditures during uncertainty.
The digitization of OOH continually enables more opportunities for brands then they've had previously.
In uncertain times, there's desire to shift spend to more measurable media. In today's OOH that delivers up and down the marketing funnel, mobile ID and other data enable us to see lift and KPIs from store sales and web usage.
In today's OOH, our powerful screen and targeting attributes maintain a brand's important share of voice.
Programmatic makes OOH advertising much more effective in reaching targets, limiting waste circulation, additional aspects sought in difficult times.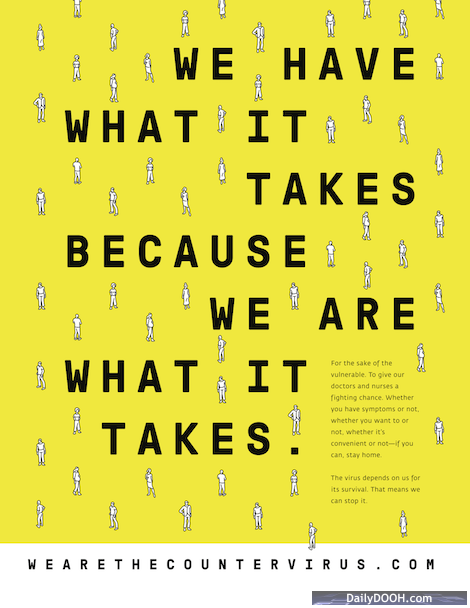 [4]
Lastly, I urge all to review existing, pending and future contracts to identify what impact these times may cause. Many DPAA members rely on a fellow member firm who knows our space intensely well; Michelman and Robinson. Feel free to reach out to counsel, Ron Camhi on rcamhi@mrllp.com, for any guidance you may need to help navigate relative issues.
The momentum that we have all built up cumulatively over recent years will come full throttle forward again! Stay safe, sanitized and sane!