Adrian J Cotterill, Editor-in-Chief
Kogniz Health claims to make it possible to continuously measure body temperature as people enter buildings. When used in conjunction with Kogniz Cloud, they say that they can quickly identify who may have come into contact with people displaying #COVID19 symptoms using existing surveillance cameras.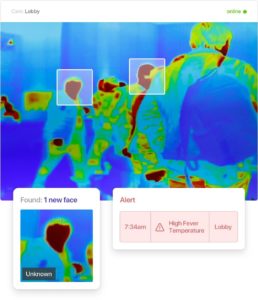 The Kogniz Health Cam allows autonomous temperature monitoring of high flows of people. The solution is deployed in a tablet form factor and can be placed on a desk, mounted on a wall, or placed on a tripod.
As people walk by, their temperature is checked in real-time and the image of any person showing elevated temperature is captured and displayed.
Kogniz Health calculates a histogram of temperatures of every person walking by and uses this to detect temperatures above the calculated normal levels.
This allows for extremely accurate detections even across different office environments. Alerts can be sent over SMS, mobile push and Slack.
The live video stream, including temperature, is displayed on the Kogniz Health display, and available remotely in the Kogniz mobile app and web interface.
Body temperature measurement. Continuously measures body temperature of groups of people entering a building. Requires the Kogniz Health Cam which can be placed anywhere in a room, accurately detecting temperature up to 16 feet away.
Exposure identification. Identifies who else may have come into contact with people displaying symptoms and can help find them using existing surveillance cameras.
Real-time notifications. Automatically alert staff when people present with fever-like symptoms. Set alerts for specific temperature ranges, or above a normal range.
Remote access and sharing. Monitor live video and temperature data from any mobile device or web browser. With a single click, securely share video clips of concerning events.