Adrian J Cotterill, Editor-in-Chief
ZetaDisplay AB (publ) (Nasdaq Stockholm: ZETA) have published their Annual Report for 2019.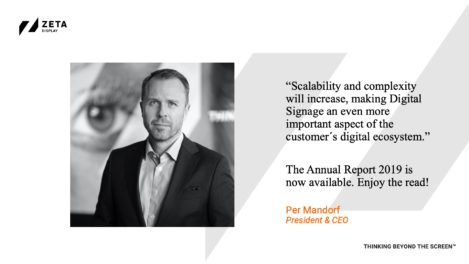 They are a company that is going to be hurting at the moment (see layoffs here). I don't see how a company that only generates revenues of MSEK 436 (approximately GBP 34 Million) and employs 160 staff at nine offices in six European countries can be a good investment. Those staff and office costs alone are huge.
Their 'Yearbook – A summary of Annual Report 2019' which goes along side the annual report is professionally done and makes a good read. You can see it here.
ZetaDisplay's Annual General Meeting will be held on May 4, 2020 at the company's premises, Höjdrodergatan 21, 212 39 Malmö.