Adrian J Cotterill, Editor-in-Chief
Popcom, who build high-IQ automated retail technology – think kiosks or 'intelligent vending platforms' are trying to raise more money via a crowd funding campaign.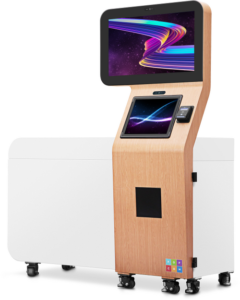 This is the second time that they have resorted to crowdfunding to raise money. Back in April 2019 they raised USD 1.07M.
Their Founder, CEO, and Director Dawn Dickson is a serial entrepreneur with over 16 years in business development. She has received numerous awards and regularly speaks on panels and workshops around the country.
She's been featured in countless media outlets including Forbes, Inc Magazine, VentureBeat, Huffington Post, Essence Magazine, Ebony.com, Women's World Daily, CNBC/Yahoo, MSNBC and on the cover of Black Enterprise.
She states that "We grew our team, opened a new office and showroom, and attended two major national tradeshows, #CES2020 and #NRF2020 show and debuted our products to hundreds of potential customers".
The company is currently offering…
PopShop Kiosk – Digital Pop-up Shop (vending machine) that dispenses products
PopCom Kiosk – ordering and translation kiosk that does not dispense
Our core software (SaaS) that is sold as a white label API for vending/kiosk manufacturers to integrate when they build the machines – which is where we stand with KIOSK Information Systems.
PopCom age gating system to verify customer identity to purchase regulated retail products like cannabis/Alcohol/pharma.
At the end of the day what they are offering is an (omnichannel) kiosk but their pitch, which includes the obligatory references to #IOT, Big Data, Blockchain, patent pending and SAAS is incredibly polished and reads rather well. There is of course a lot more to the story than that.
You can take a look at their crowdfunding campaign here.