Russ Curry, Ministry of New Media
DPAA, the leading global organization for all advertising and content outside the home, has announced that its next webinar will focus on 'Innovation Through Inclusivity'. As with the previous two WE.DOOH webinars held during the stay-at-home pandemic period, this May 19 (11am ET) event will be open to DPAA members and non-members alike.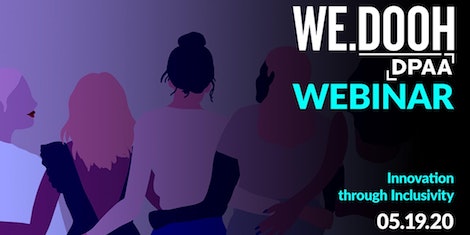 Barry Frey, President & CEO, DPAA told us "The popularity of our first two WE.DOOH webinars speaks to the hunger people have to connect with friends and colleagues, and to use this difficult time as an opportunity for both personal and professional development. We are pleased to once again make WE.DOOH available to the entire community."
Studies have shown that inclusive work cultures benefit from stronger performance results, better decisions and accelerated innovation. And business that value diverse perspectives attract valuable new talent.
'Innovation Through Inclusivity' will examine the actionable steps that attendees can take immediately to build a more inclusive work culture and will take place Tuesday, May 19, 11am ET. Participants will:
Understand the latest research on how diverse teams are accelerating growth
Recognize barriers that are holding them back from achieving this potential
Learn actionable strategies to overcome challenges to building a more inclusive work culture
Registration can be found here.
Debbie Drutz, NOVUS President and member of DPAA's Board of Directors, is chair of WE.DOOH. Advisory board members include Kate Birrell, Director, Marketing Solutions, Clear Channel Outdoor; Michelle Bodnar, Director of Publisher Development, Hivestack; Samantha Brown, Director of Business Development, Mesmerize; Jenna Erdman, VP, Network Expansion & Partnerships, ISM Connect; Faith Garbolino, EVP Sales & Marketing, JCDecaux North America; Leslie Lee, VP Marketing, Vistar; Traci Lorio, Location Data Manager, Media & Ad Tech, HERE Technologies; Maureen McCloskey, Managing Director, Kinetic US; Rosie O'Meara, SVP of Platform, GroundTruth; Joni Schmeichel, OOH Strategic Marketing Manager, Daktronics; Amanda Sheplee, Business Development Leader, Outfront Media; Marci Weisler, Chief Commercial Officer, Vengo Labs; and Irina Zeltster, President, Talon Outdoor.
More information on WE.DOOH can be found here.