Adrian J Cotterill, Editor-in-Chief
Captain Moore, war veteran, soon to be 100 yrs old, has been walking for the NHS and has been an inspiration to the entire UK population.
A few weeks ago his aim was to walk a hundred lengths of his back garden (25m in length) before he reached the grand old age of 100 at the end of this month. He thought he might raise a few thousand pounds for the NHS but to date has raised just over GBP 28 million!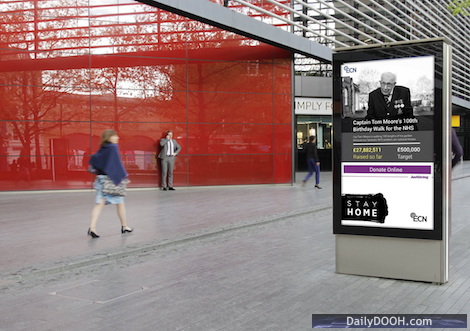 As that total amount of money raised has skyrocketed, it really was a few thousand, then a million, then five, then ten, then twenty all in the space of days and weeks, media owner ECN thought it would be nice if they could very quickly put together a digital billboard that kept count of the running total.
Nigel Gorham, ECN's technical guru in Sydney, Australia, wrote a script that tranformed the JustGiving API into a readable form for ECN's DOOH network. The direct connection between JustGiving and ECN means the donation amount displayed on screen is updated every five minutes.
So now Captain Tom's content is streaming across 171 locations including London Bridge City (shown above), which is positioned between London Bridge Station and the Lord Mayor's office.
Tom was born and brought up in Keighley, Yorkshire. He went to Keighley Grammar School and later completed an apprenticeship as a Civil Engineer. Tom went onto being enlisted in 8 DWR (145 RAC) at the beginning of the war, and in 1940 was selected for Officer training. He was later posted to 9DWR in India, and served and fought on the Arakan, went to Regiment to Sumatra after the Japanese surrender and returned to be Instructor at Armoured Fighting Vehicle School in Bovington.