Adrian J Cotterill, Editor-in-Chief
As stay-at-home orders are lifted, Canadians will gravitate to the outdoors, eager to spend time with family and friends, participate in leisure and sports activities and engage in some retail therapy, so says COMMB.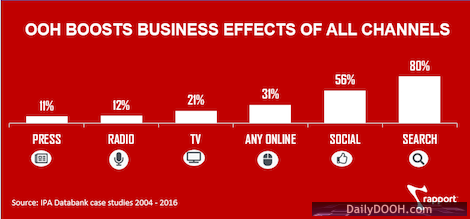 Out-of-Home advertising's ability to build reach quickly and offer a positive disruption when consumers are in a receptive and alert mindset can help marketers achieve their communication objectives.
 Advertisers who spend 15% or more of their ad budget in OOH show a 22% uplift in short term sales versus non-users of OOH. 
Over the longer term, OOH can help to deliver stronger results increasing customer acquisition, profit and market share. 
 
Digital OOH offers additional benefits through its immediacy and flexibility permitting advertisers to adjust their call to action/pricing at a moments notice from coast to coast.
 
OOH builds brand stature and fame
 which increases the likelihood that your brand gets talked about by consumers online and offline.  Stature helps build belief in a brand and increases the level of quality and service associated with it. 

Advertisers spending 15% or more of their ad budget on OOH see a boost in brand stature (esteem) by 62% and fame by 50% compared to those spending less.
 
During the pandemic, online shopping increased significantly and OOH can support this consumer behaviour and search activity well beyond COVID-19. OOH significantly amplifies the business effects of online advertising (by 31%), paid-social (by 56%) and search (by 80%).
 
OOH creates personal brand experiences 
with DOOH, whereby brands can deliver their stories and content in the moment and adjust the message dynamically based on hyperlocal data and insights. OOH provides unlimited opportunities to surround and immerse consumers with contextual messaging and connect with specific targets in place-based environments.
 
OOH also amplifies other media and boosts a brand's stature, fame and business effects when added to the media mix.
As an always ON medium, OOH is an integral part of the media mix providing high ROI, context and relevance to build stronger connections and a lasting impression with consumers. 
COMMB is the national organization for the Canadian OOH industry comprised of advertisers, advertising agencies and OOH companies. COMMB is responsible for developing and verifying audience measurement methodologies, providing audience data and planning resources, marketing and communications, government relations and member services.