In the second report released by COMMB to provide advertisers and their agencies insight on the changes to traffic behaviour during the #COVID19 pandemic, data was gathered over nine weeks, from January through to March 15, 2020 and was used as a baseline to calculate the % difference by week.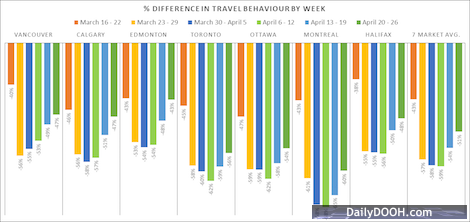 [1]
COMMB'S review included sourcing data on over 12,000 geo-fenced Outdoor advertising faces and mapping software that provides driving directions.
With self-isolation measures lifting slowly across Canada, the graph above shows an average uplift in travel of 8% across seven markets during the week of April 20-26 from two weeks ago when it hit a low of -59%.
The largest changes were observed in Western Canada with Vancouver, Calgary and Edmonton showing a 9 – 11% increase from the lowest travel week.
Montreal is up 8% at -60% from its lowest % two weeks ago of -68%.
Halifax, also following an increased traveling trend up 8% over the last two weeks. Toronto & Ottawa are slowly returning to a new norm with an 6-8% improvement since the week of April 6th.
As businesses start to re-open and people gain their freedom, this uplift trend in out of home travel is likely to continue in the coming weeks.