In every country around the world, Out of Home media owners have been helping with public service community awareness, real-time emergency updates and running government-paid ad campaigns – all in aid of spreading the word about not spreading the virus.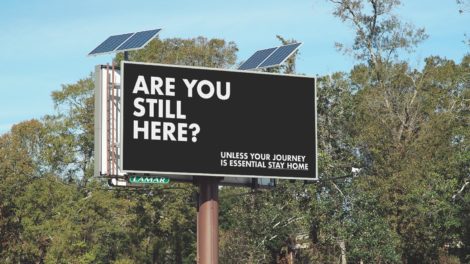 Industry associations have, on the whole, done a great job in helping pull together and distribute Public Service Announcements (PSA) but whilst not wanting to rank or rate any of these, there has been only one PSA that to our mind has gone truly global.
#StayAtHomeSavesLives was produced by Diversiffi Media with creative by Mullen Lowe UK and together they created eight brilliant, simple, witty but to the point executions, which were crafted to be easily translatable and easily transferable across to any market. They were designed to reinforce the official messaging that non-key workers should 'Stay at Home'.
Diversiffi Media's Fiona FitzGibbon told us "This campaign was inspired by three junior doctors on BBC News. They had just come off a late shift, exhausted, with the message 'thank you for thinking of us, but the greatest help would be to just stay at home'. From the start, this was a non-commercial/non-branded campaign, born purely to support frontline workers and reinforce their own message as a public safety notice. The campaign success relied on the generosity of media owners, creative houses, AdTECH platforms and trade bodies, with whom their collaboration and commitment for doing good was absolutely mind-blowing. As a secondary function, it not only amplified the creative flexibility and immediacy of DOOH, but also the agility of smaller operations such as Diversiffi Media to make things happen and bring ideas to life".
These 'Stay At Home' / 'You Should Not Be Here' messages have touched almost every corner of the globe. In North America, the most prominent media owner to use has been Lamar (shown above), although other networks such as New Tradition, Smart Bomb Media Group and Blip also ran it. In Canada it was seen initially on Statements Media [1] premium out of home properties. In EMEA it has literally been everywhere, Pikasso in the Levant (shown below), ECN across UK and Germany, Elonex, Mass Media, Open Media, LondonLites. Smart Outdoor, Carrefour in Spain and across the whole of the UK Motorway network with Admedia.
Laura Davis-Taylor, Executive Board, Digital Signage Federation told us "Digital signage has a very special and important role in the COVID crisis. We are the one OOH medium that's addressable, flexible, immediate and high impact. We are already present where people are–as well as where they shouldn't be. It's been incredibly rewarding to see campaigns like this come together to put our industry's power into play–and to come together to give them more impact! The DSF is fully behind all of these efforts, as we believe that we are a critical component for managing public places and spaces safely."
Thanks to Hivestack's distribution mechanism it expanded its reach tenfold in Canada and recently reached Australia and is now playing out via VMO. This PSA truly is a global success story.
ACE (Advocates for Connected Experiences) [2], the DSF and Hivestack all helped with distribution.
Kim Sarubbi, Chairwoman, Advocates for Connected Experiences said "It was such wonderful serendipity to have the opportunity to launch ACE by sharing this campaign. It exemplifies the reason we exist–to unite and empower associations of connected customer experiences around key industry issues that are significant in scope. What better springboard to illustrate this–something done purely from the heart and amplified across the globe by others in the ecosystem, all for the good of us all."
For more information about the PSA email Fiona.fitzgibbon@diversiffi.co.uk