Moving Walls has just announced that the US Patent and Trade Office has awarded the company a patent US10587922B2 for 'A System and Method for Viewership Measurement of a Particular Location for Digital Out-Of-Home Media Networks'.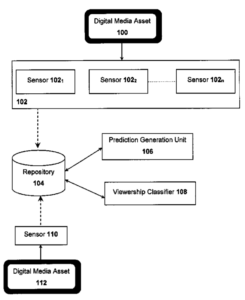 The awarded patent is for a system of multiple sensors (shown to the left here), which are dispersed in a particular geographical location where a media site is located. These sensors fetch information characterizing the audience of the digital media asset and this information is normalized before being stored in a repository.
The system uses machine learning to identify the type of location and assigns weights for each individual type of signal collected to provide audience metrics to target media assets whose audience is unknown.
Robust, reliable and accurate Out-Of-Home (OOH) has become the norm for OOH stakeholders and this sets the medium above the rest. These days, it is essential that all media provide accurate audience measurements data for planning, trading, and evaluation of campaigns. Planners and buyers aren't just buying OOH space anymore – they are buying audiences.
Moving Walls is working with more than 200 media site owners, global media agencies, advertisers, and industry associations to develop measurement standards for outdoor advertising. Moving Walls has deployed its products on more than 30,000 physical media sites globally across multiple markets including USA, Singapore, Malaysia, Indonesia, Philippines, India, and Nigeria and Mexico.
The rise of place-based digital signage in all types of locations – indoor, outdoor, roadside, transit hub, and moving vehicles – means that a single sensor approach cannot provide a robust solution for a medium that reaches multiple viewers at the same time.
Moving Walls' solution ingests data from multiple sensors including Bluetooth smart based sensors, WiFi-based sensors, camera-based sensors, traffic sensors, social media sensors, telco sensors, and smartphone location data sensors. The system maps this to movement information around individual media site locations and uses the aggregated information to understand the audiences' behavioural patterns.
Srikanth Ramachandran, founder and Group CEO of Moving Walls believes the awarded multi-sensor patent will serve to increase advertiser confidence in OOH media and contribute to adoption acceleration of Programmatic Digital OOH and told us "Outdoor advertising has completely transformed – both physically and in terms of how it is being traded. However, the fundamental issue of audience currency has yet to be addressed in a scalable manner. There are many players who are implementing or adopting existing metrics – traffic counts or smartphone GPS signals – but these either address one type of environment or only represent a sample of the total audience,".
He also added that the company is working with industry associations in each of its markets to bring more transparency and enable more efficient trading models that will inevitably grow outdoor advertising spends but did not specify whom,
Moving Walls describes itself as a global media technology company that enables brands to Measure, Reach, and Influence consumers on the move. The company provides a location intelligence-driven platform that brings transparency and automation to out-of-home media via Planning, Buying, and Measurement tools.