The Outdoor Media Association (OMA) has today announced the winners of its Q1 2020 Creative Collection competition.
Launched in 2013, the Creative Collection celebrates the big, bold, and audacious canvas that is Out of Home by recognising exceptional campaigns each quarter.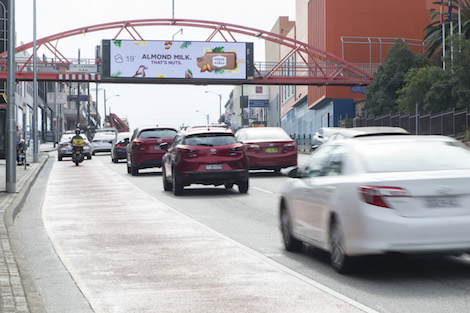 Charmaine Moldrich, CEO, OMA said "oOh!media's Kindness campaign captured the COVID-19 zeitgeist. oOh!media was quick to react in a time when people needed to be reminded to be kind and act with everyone's best interest at heart. Kindness, helped drive a more thoughtful sentiment in the community. The timely nature of this campaign embodies the power of Out of Home, to positively influence communities".
Campaigns are judged across the following categories:-
Big, Bold, and Bright
Best Use of Multi-Format
Best Use of Digital
Innovation in Out of Home
Q1 2020 attracted 25 submissions from OMA members including; BIG Outdoor, JCDecaux, oOh!media, and QMS Media.
The guest judges were Adam Cadwallader, CEO, XTD; Natalie Hocking, Manager, Marketing Strategy and Sponsorships, RACQ; Guy Patrick, Creative Director, The Works and Claire Woods, Head of External Communications and Digital Marketing, oOh!media
The judges praised the innovation and creativity across all of the entries, awarding a Grand Prix winner as well as two Honourable Mention winners.
Adam Cadwallader, CEO, XTD told us "Outdoor has the ability to be very direct, in an over the top way which makes it impossible to miss. Utilising the opportunity of multi-formats with pop-culture references is what leveraged the winning campaigns over others, and made them stand out for the judges,".
The Winners were: –
Q1 Grand Prix and Innovation in Out of Home
Campaign: Doritos – Food Truck Flavours
Advertiser: Doritos (Pepsi Co)
Creative agency: Isobar
Media agency: PHD
Printer: N/A
Big, Bold, and Bright
Campaign: Australian Open 2020
Advertiser: KIA
Creative agency: Advertising Associates
Media agency: Havas media
Printer: N/A
Big, Bold, and Bright – Honourable Mention
Campaign: Schweppes
Advertiser: Schweppes
Creative agency: TBWA Melbourne
Media agency: OMD Melbourne
Printer: Cactus Imaging/oOh!media
Best Use of Multi-Format
Campaign: Messages of Kindness, Consideration and Compassion
Advertiser: oOh!media and Junkee Media
Creative agency: oOh!media
Media agency: N/A
Printer: N/A
Best Use of Digital
Campaign: Peters Proud and Punch
Advertiser: Peters
Creative agency: Leo Burnett
Media agency:  Spark Foundry
Printer: N/A
Innovation in Out of Home – Honourable Mention 
Campaign: SUV & LCV Q1 2020
Advertiser: Renault
Creative agency: Big Red Communications Group
Media agency: United Melbourne
Printer: N/A