Adrian J Cotterill, Editor-in-Chief
If you know where to look, you can spot a brand new Digital billboard at the corner of 8th Avenue and West 42nd Street in Midtown Manhattan. It's directly across the intersection from Eleven Times Square.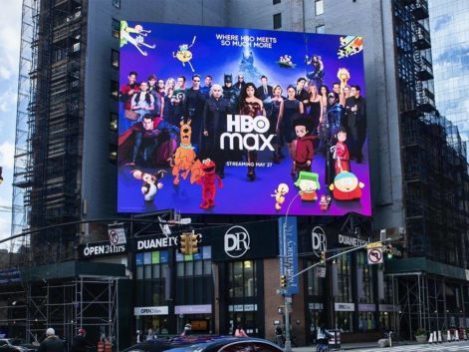 At 64'7" tall and 84' wide, the new screen from SNA Displays' line of EMPIRE exterior LED display products is itself impressive and noteworthy. But what makes the installation spectacular isn't just its vibrant 7.9 million pixels of direct-view LED, it's the collaborative and dedicated effort by the project management teams, which cleared hurdles to get the job done on a major project that spanned about five years from concept to installation.
To bring the LED billboard to life, the teams from SNA Displays and media partner BIG Outdoor worked together with New York City's Department of Buildings to approve the large-format rooftop digital display outside the special-use district, a process that involved attending community board meetings for several years.
Pete Simon, director of sales at SNA Displays told us "This project is near and dear to us for several reasons. It's not every day you get to change the city code, especially with a project this large and high-profile. At SNA Displays, we love doing the projects that nobody thinks are feasible. This one definitely presented regulatory challenges, but following the lead of BIG Outdoor, we got it done."
The existing building structure at 661 8th Avenue had to be reinforced to support the weight of the new LED spectacular. This required new steel bracing and supplementary reinforcements to be installed through the roof and integrated into the original structure.
Bill Tagliaferri, executive vice president of real estate at BIG Outdoor said "Extremely satisfying seeing this incredible sign come to fruition with help from our amazing teams at North Shore Neon and SNA Displays. A masterful collaboration between our real estate partners, LED manufacturer, and the top sign installer which has changed the landscape of 42nd Street and 8th Avenue for years to come!"
The new digital billboard, which sits atop the Duane Reade pharmacy at 661 8th Avenue, has an 8.0 mm pixel pitch and a screen that is 2,460 pixels high and 3,200 pixels wide. SNA Displays worked with North Shore Neon for installation.
BIG Outdoor is a privately held premier Out-Of-Home media company focused on the development, marketing and sales of unique high-profile media assets in key media markets across the country.
Established in 1954, North Shore Neon Sign Co. has been providing signage solutions in the New York Metropolitan region and its surroundings for over 50 years.