Adrian J Cotterill, Editor-in-Chief
The impact of COVID-19 on the hard-hit hospitality industry is shaping a new landscape for hotel operations.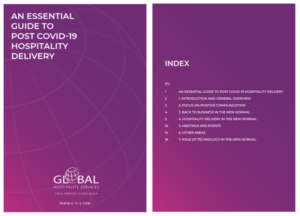 The Global Hospitality Services' team of experts, refusing to surrender, have come together to share best practices and continue to support hotels around the world with the production of this 'Essential Guide to Post COVID-19 Hospitality Delivery'.
It's well worth a read. Within this guide you will understand the preparations you need to make now for the post-lock-down era; how meetings and events will need to adapt and the role of technology within the 'New Normal'.
You can download the guide here.