Adrian J Cotterill, Editor-in-Chief
There is an impressive new SNA Display's LED mounted at the top of The Reef's façade in Downtown LA. Out-of-home media owner New Tradition are selling the advertising space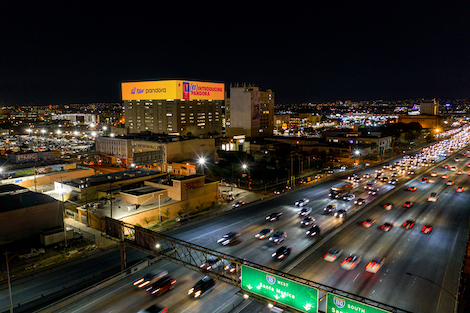 New Tradition's CEO Evan Richheimer told us "Los Angeles has been a long-time market of ours and we're so thankful to be able to launch this display in the LA out-of-home marketplace.". Los Angeles is one of the largest markets in New Tradition's growing portfolio of inventory and the launch of The Reef's signage is the epitome of New Tradition's impact and we are told is just a glimpse of what's to come.
The Reef was launched with a variety of advertising partners including Pandora Music, Facebook, Verizon and Klarna. Additionally, with community in mind, the media vendor has partnered with a number of businesses to promote awareness and positive messaging during the COVID-19 pandemic.
New Tradition partnered with Jeremy Kolieb at Consumer Experience Group, a small Los Angeles-based consultancy for experiential display projects. CEG has represented the owner of The Reef from the beginning of the project, then oversaw the display technology specifications and procurement process, the detailed media partner selection process and project management.
Totalling more than 40,000 square feet, the new display canvas amounts to almost a full acre of high-resolution LED signage, all manufactured by SNA Displays.