Adrian J Cotterill, Editor-in-Chief
Veovo has introduced its Virtual Queueing and Passenger Density Management products to support social distancing at airports.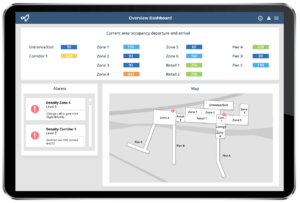 James Williamson, CEO of Veovo, told us "To safely manage crowding, operators need accurate, timely data. By accommodating new social distancing needs in our solution, we enable safe and proactive planning to reduce crowds and to make sanitation and disinfection programs more effective."
Using movement monitoring and machine learning their solution offers real-time and predictive passenger density and movement insights for live situational awareness and future planning.
Virtual Queueing enables travelers to pre-book a slot at airport checkpoints rather than waiting in line.
Airports can control queue entry, prevent too many people from congregating in one area and evenly distribute passengers across checkpoints.
Passenger Density Management monitors crowd density in queues and spaces, letting airports take action if social distancing limits are at risk of being breached.
Live heatmaps and dashboards give a reliable breakdown of the current situation, triggering tailored alarms and automated actions if density thresholds are exceeded.
Recommendations to limit crowding can include capping entry to busy escalators or stairwells, adjusting security lane openings, changing call-to-gate times, updating digital signage or distributing gate and baggage gate allocations.
More information can be found here.