Adrian J Cotterill, Editor-in-Chief
Lightbox OOH Video Network (formerly Adspace Networks) has been working hard and instilling buyers' confidence in returning to their digital OOH platform.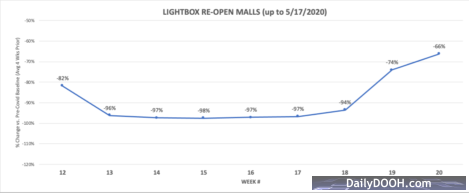 Since their network essentially went dark from Mid-March through April (given their presence in shopping malls and lifestyle centres nationally) they've been busy invested in gaining attitudinal and now hard data to measure traffic returning to malls.
In fact they have just their first results back and it looks like they've exceeded all expectations. All OOH media buyers need hard data and this is good for the North American industry as a whole as we all aim to help bring investment back to the sector.
This week we have real hard data from Intermx, the data source that fuels Geopath ratings/measurement.
Sourced by Intermx, the data partner that fuels Geopath ratings/measurement
Methodology: device ID capture across Lightbox's network of malls; Intermx applies modeling to land on audience projections
Headline: as of May 17, OVER A THIRD of traffic returned to open malls
Notes/Highlights:

Baseline: four weeks leading up to the first states' shutdowns (weeks of Feb 17- March 9)

Week of May 4: 26% returning traffic
Week of May 11: 34% returning traffic
That's a +31% growth rate from week one to week two
Some DMAs as high as 51% already
A recently released proprietary Attitudinal Study (via MFour) shows that consumers are itching to return to Malls and the data above seems to back that up .
Lightbox is now, once again, able to build media plans that deliver:
An audience of 33 million consumers (four-week cycle)
Upwards of 100m Nielsen-validated, audio-enabled video impressions (four-week cycle)
A presence in over 50+ DMAs across 26 states