SNA Displays has manufactured a two-screen LED marquee which has been installed above the canopy at the entrance to the Peachtree Center Transit Station in downtown Atlanta.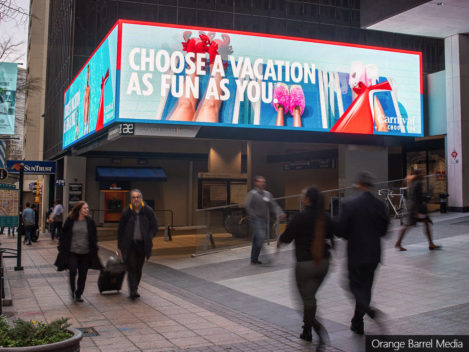 The site, also known as the Gas Light Tower, is located at 235 Peachtree Street on the corner of Peachtree St NE and John Portman Blvd NE, across from the Atlanta Convention Center and about half a mile from the World of Coca-Cola.
Peter Simon, director of sales for SNA Displays told us "Peachtree Center North was one of the first digital displays in the Atlanta Arts and Entertainment District after zoning restrictions were updated. The city recognized the opportunity to increase engagement and ad revenue by allowing digital assets in this area."
The LED display system wraps around Peachtree Center North at a 90-degree angle, giving viewers throughout the busy intersection access to the content. The west-facing screen is 43'7″ wide and 8'8″ high and the south-facing panel is the same height but 31 feet long.
Nick Gioia, SNA Displays project manager said "Orange Barrel Media, Henry Incorporated, and SNA Displays were all committed to getting this project done and truly worked as a team to deliver a spectacular LED display for the City of Atlanta to enjoy. As always, the creative content by Orange Barrel really sets this installation apart".
Both displays sport an 8.0 mm pixel pitch and are part of SNA Displays' EMPIRE™ line of outdoor LED display products. Henry Incorporated, which specializes in custom architectural designs, installed the displays for Orange Barrel Media, a leader in unique outdoor media.