Adrian J Cotterill, Editor-in-Chief
Earlier this year, Broadsign was named one of the top employers in Montreal. Late last week they were named one of the top small and medium employers in Canada.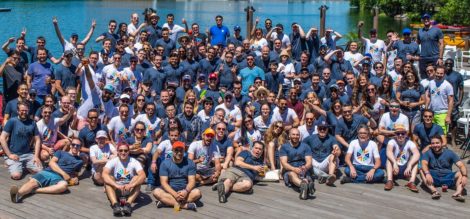 In an email to all employees, Broadsign's CEO Burr Smith said "Both awards reflect an analysis of a number of corporate qualities, including office culture, employee benefits, and growth trajectory. These qualities have also taken on new significance in our current moment. It's no secret that the whole out-of-home industry, including our company, has been greatly affected by distancing policies implemented around the world. We've had to make some difficult decisions and take dramatic steps to change the way we work across the company".
Broadsign offers several unique employee support and engagement programs, including a generous vacation offer, an open working space, a healthy lifestyle program, and a culture where anyone can bring forward suggestions to make the products and organization better. Some of the benefits Broadsign employees enjoy include:
Encourages employees to support community and charitable initiatives with up to two paid volunteer days annually and matching charitable donations of up to $500.
Promotes health & fitness with fitness subsidies, a scheduled health week with daily speakers, a well-stocked kitchen with healthy snacks, and weekly yoga or fitness classes.
A social committee manages a busy social calendar for its employees, with past events including a diversity week, movie nights, employee soccer games, wine and cheese tastings, game nights, a charity hockey game, catered office lunches, team go karting, a spring sugar-shack outing, summer barbecue, Bixi bike rides across Lachine Canal, and much more.
Encourages employees to continue their education with lunch & learns, opportunities to attend international conferences and training courses, and possible tuition subsidies.
Broadsign's Montreal head office of 175 full-time employees received 4,000 resumes in the last year as a sign of their employee-focused reputation.
Burr continued "I hope you'll excuse my bias when I say that I think the organization has done an exceptional job of this. Transitioning everyone to remote work has gone better than I could have hoped, and all our teams have stepped up to maintain the same high standards we hold ourselves to even in these unfamiliar and uncertain times. Everyone has come together with enthusiasm and determination to support our colleagues, customers, and partners as best we can. One thing
I've taken away from this experience: It has demonstrated the strength of the core values that influence everything we do at Broadsign. A shared dedication to honouring our commitments, treating everyone with respect, and always doing what is right are what allow us to continue to do great things in the face of difficulty. They're key qualities we look for in our team, and seeing them represented so well by everyone in the company leaves no doubt in my mind that it is truly our people who make Broadsign such a great place to work. My congratulations and thanks to everyone on our team for shaping our company into what it is today. Getting to work with you is one of the great joys of my life".
The Canada's Top 100 Employers competition recognizes employers with exceptional human resources programs and forward-thinking workplace policies. Starting with an initial list of more than 90,000 employers, Mediacorp graded those selected on eight criteria, which have remained constant since the project's inception: Physical Workplace; Work Atmosphere & Social; Health, Financial & Family Benefits; Vacation & Time-Off; Employee Communications; Performance Management; Training & Skills Development; and Community Involvement.