Adrian J Cotterill, Editor-in-Chief
Back in early May we wrote "Sometimes the best ideas come from the most unusual places and this one comes from the Emerald Isle, namely the media owner Orb, one of our favourite SME Broadsign customers". That gem of an idea has quickly morphed into one of the best #COVID19 campaigns that we have seen to date.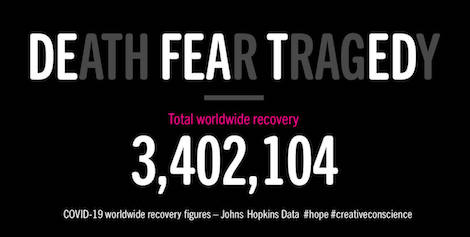 This is truly a positive campaign designed to draw attention, in a creative way, to the amount of people who have totally recovered from #COVID19 – all in real time.
Described as a unique project that combines technology, media platforms, creativity and hope. The press release states that "It was born by people with a creative conscience and a determination to get things done" – to which we can testify to, as being 100% spot-on. It continues "Outdoor media was secured, ideas were conceived and the right people connected, the creative was developed".
The outdoor media is dynamically fed by live data, with the API being sourced from the likes of Johns Hop­kins University, the World Health Organisation and the Centers for Disease Control (CDC).
From Orbscreen's initial idea, Creative Conscience developed a brief that creative students from around the world would answer in just a matter of days. The best ideas were crafted, judged, and then built to bring people HOPE globally.
The winning idea 'DEFEATED' by recent graduate Megan Williams, studied creative advertising at Leeds Arts University in the UK. She told us "I took part because I'm really interested in using my creative superpowers for good and building positive impact'. FYI Megan Williams is currently looking for intern opportunities.
The overall project was crafted and produced by Creative Conscience and their sponsor L&Co . It was developed by Voodooh & Nicole Yershon and rolled out by Broadsign to their customers' globally.
Creative Conscience is a charity that inspires, trains & rewards creative thinkers to apply their talents to socially valuable projects.
For all media enquiries or to arrange an interviews with Creative Conscience, Voodooh, L&Co, Broadsign & Orbscreen or …. please contact nicole@nicoleyershon.com or louise@creative-conscience.org.uk