Adrian J Cotterill, Editor-in-Chief
Groupement Les Mousquetaires, a major player in mass distribution in Europe, has a food-processing entity made up of more than 60 production plants. This 'Agromousquetaires' division ensures the group's supply independence in order to offer consumers products made exclusively in France through its private labels. It employs 11,000 employees and wished to implement a digital signage solution in order to centralise, facilitate and digitise the information communicated internally on its various production sites.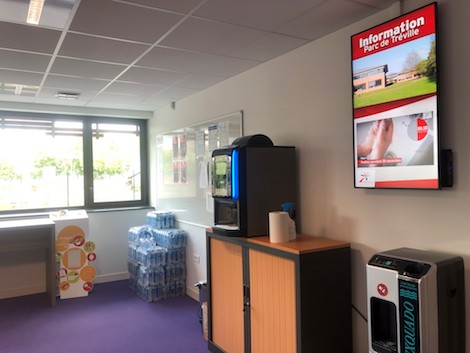 The group chose Telelogos' Media4Display as the solution to communicate in real time with all employees, especially those who do not have a workstation or messaging system.
The head office of the Les Mousquetaires group displays internal information and broadcasts group news and press publications via Media4Display.
AgroHub, center of expertise of the Agromousquetaires division, is equipped with digital signage screens enabling it to communicate both the group's news and the entity's news (word from management, internal events, etc.).
Around twenty factories are already equipped with screens managed by Media4Display in order to improve communication within each production unit (highlighting internal employees, save-the-date for team building events, prevention and safety messages, etc.). Eventually, the group will deploy Media4Display on all 62 production units of the division
The benefits for Agromousquetaires are obvious to anyone who knows how useful digital signage is in the employee and corporate communication sector..
Update and unify communication supports
Interaction and cohesion between employees
Quick content updates (with the intuitive Media4Display interface)
Content management by people from different departments, with customisable rights management
Jimmy BONPUNT, Agromousquetaires HR and Communication Directorate told us "We particularly appreciate Media4Display for its ease of use. The solution is relatively simple to use, making it possible for us to update our content with a variety of publisher profiles. The solution has enabled us to unify communication within our entity, especially through the implementation of common templates for each of our production units. Media4Display perfectly meets our expectations. The next step will be the display of production data and performance indicators on screens within our production sites."
Telelogos is a software publisher in the fields of Digital Media and Connected Devices. Telelogos software allows companies and organizations to better communicate and interact with their customers and/or employees as part of their digital transformation. Corporations can manage and display content through screens placed in any location (points of sale, industry, public spaces, reception halls,…), manage the availability and reservation of their meeting rooms through digital devices, and remotely control their fleets of connected terminals, whether mobile (smartphones, tablets) or fixed (terminals, POS).
Telelogos has more than 2,000 customers and 500,000 licenses used in more than 50 countries by all types of companies, from SMEs to large accounts.