JCDecaux in Australia has partnered with Mexican restaurant chain Zambrero to amplify its 'Plate 4 Plate' initiative in Out-Of-Home environments. This encourage people to purchase a burrito or bowl, in the hope of providing millions of meals to those in need.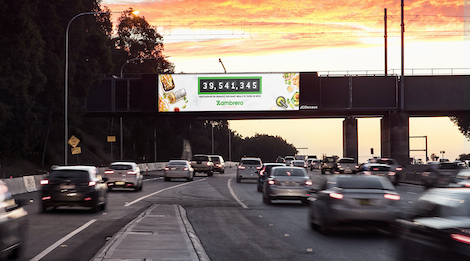 From this week, the JCDecaux component of the campaign will feature across its national large format digital network with a dynamic, real time Plate 4 Plate counter – for every delicious Zambrero burrito or bowl purchased, a meal is donated to someone in need. The live counter will update the number of meals donated by Zambrero across Australia with the line 'Together we've donated this many meals to those in need'.
JCDecaux Head of Creative Solutions, Ashley Taylor told us "The Zambrero Plate 4 Plate initiative is a great opportunity to work on a campaign to make a difference. Leveraging Zambrero's owned data allows us to create a meaningful celebration of achievement on the streets across Australia. We hope that the live counter will encourage even more people to visit Zambrero and donate even more meals to those in need."
The campaign is part of Zambrero's global Plate 4 Plate initiative, which has a goal to end world hunger. The food retailer has been partnering with international hunger relief agency Rise Against Hunger to provide meals globally to communities who may not have access to adequate nutrition. In Australia, Zambrero also partners with Foodbank, donating a meal to someone in Australia for every retail item purchased.
Since Plate 4 Plate's inception, Zambrero and its customers worldwide have donated more than 39 million meals.
Zambrero Group CEO, Guy Haslehurst, said "I hope the JCDecaux campaign will encourage the ongoing support of the Plate 4 Plate initiative. It recognises the amazing support we have received from our customers in reaching this significant milestone of 40 million meals donated. The JCDecaux counter is an innovative way of bringing our campaign to life outside of the restaurants and into the community."
The campaign will run until July 20.