Adrian J Cotterill, Editor-in-Chief
During the course of this pandemic, retailers and other public venues have been hacking together communication around safety measures and guidelines leaving shoppers feeling unsafe and uninformed. The impact of #Covid19 has significantly changed how we go about our daily business, heightening awareness of germs and contagions and making us reconsider all the surfaces we encounter. As the lockdowns begin to ease and a return to normality is within grasp, core public infrastructures such as businesses, transportation and retail are recognising the need to adopt a new and consistent approach to providing services with #Covid19 regulations in mind.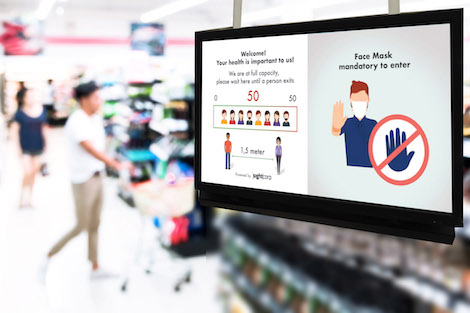 Technology can be used as a flexible and effective tool to address this problem and to actively prevent the rise of new infections.
Dutch based Sightcorp, a spin-off from the University of Amsterdam specialising in face analysis and face recognition software, has launched an innovative product centred around #Covid19 retail solutions. The new technology builds upon their existing state-of-the-art, crowd analysis software, DeepSight and uses a combination of sensors and digital signage to create a smart store traffic light system, hopefully enabling businesses to create a safe environment as the public is returning to retail.
We are told that the unique smart store technology adopts a multi-faceted approach using facial analysis and crowd control to create an effective entrance flow management system. The software performs a completely anonymized analysis on an individual or crowd basis. No personal data is ever collected or stored which makes this solution fully privacy proof. The gathered data can be integrated with any content management system (CMS) or a reporting dashboard for further analysis of trends.
Sightcorp's new smart store technology can be applied using digital displays, which can conveniently switch between displaying targeted advertisements to safety communications and access control updates. The software has the ability to determine whether an establishment has reached its full capacity, using a people counting system located at the entrance and exit. From there key messages can be transmitted to customers arriving at an entrance via a digital screen. The screen content can be programmed to display real-time updates on whether it is possible to enter the store, while also including a 'stop and go' traffic light system to ensure complete message transparency. This contactless method of controlling the flow of traffic into premises could provide key benefits in relieving staff members of queue management tasks.
This new traffic light solution also comes with a face mask detection algorithm that can be turned on and off when needed, allowing for real-time mask detection of customers entering the store. If a visitor is found not to be wearing a mask or wearing one incorrectly, a reminder message can be displayed on the screen, or a trigger can be sent to an access control gate or a smart device (e.g. smartphone, smart watch).
Sightcorp's new feature additions to their current product DeepSight are precisely that, easy to use and effective settings that can be turned on and off as required. Therefore, allowing for adjustments to be made as circumstances evolve or as any new health threats emerge for the public in the future.
Joyce Caradonna, CEO Sightcorp told us "I truly believe that the newest addition to our already powerful audience analytics product can aid retail sectors across the globe to communicate the daily changes in rules and guidelines in a smarter and effective way while keeping everyone safe.' –
Face masks and audience analytics
Apart from detecting masks, many retailers and advertisers use audience measurement software for people counting, demographic analysis and for gathering ad performance metrics. Therefore it's very important for the technology to remain robust and accurate even when analyzing faces partially covered by face masks. Sightcorp's DeepSight models have been developed and re-trained with this in mind and are still able to detect and estimate the gender and the age of all audiences. The audience measurement and face masks detection technologies run in parallel so retailers can make sure their visitors
wear face masks during shopping while still collecting valuable demographic data at the same time.