Philips Professional Display Solutions has announced that its new Android-powered queue management signage and camera solution, PeopleCount, is now helping the food and beverage industry to safely reopen their establishments, as #COVID19 lockdown measures are eased across Europe.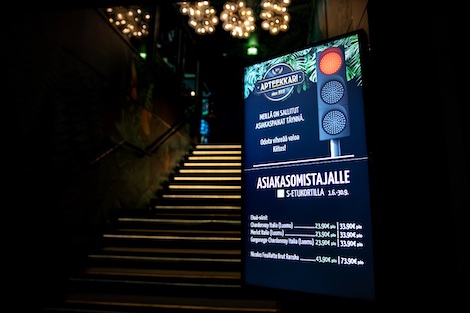 PeopleCount, from Philips PDS, was created and launched in April this year, as an immediate response to the sudden changes and challenges being faced by businesses, as capacity and social distancing become key concerns and requirements.
Following last month's announcement that a leading retailer in the Netherlands has installed PeopleCount, Philips Professional Display Solutions can confirm popular restaurant/bar, Apteekkari, in Kuopio, Finland, has become the first in its industry to re-open using the PeopleCount solution, with immediate positive results.
Apteekkari sought a dedicated solution to help easily and accurately monitor capacity on its rooftop terrace, to ensure social distancing is maintained at all times and to provide a simple and clear way of communicating with customers – both during and post COVID-19.
In partnership with Avek Esitysratkaisut Oy, a local AV integration firm, two 32" Google-certified, Android-powered and wi-fi connected D-Line displays (32BDL4051D/00), together with a Bosch FLEXIDOME IP Micro 3000i IH intelligent camera and the Philips Professional Display Solutions PeopleCount app were installed.
Designed for 24/7 use, full remote management control (using Philips PDS's exclusive CMND platform), and capable of delivering complex content to capture any audience's attention, the D-Line displays were strategically positioned in portrait mode at the entrance of 'Apteekkari Sky' rooftop terrace and inside the rooftop's indoor bar area.
Jari Pöykiö, sales manager at Avek, said "Finnish regulations for restaurants are very tough during normal times. But these are not normal times. Keeping people safe and socially distanced to help reduce the potential spread of a new and invisible enemy (COVID-19) is a major consideration for many industries and present some major challenges. That's where technology can play a vital role and that's why we again turned to Philips Professional Display Solutions."
Connected to strategically placed Bosch cameras, the number of people entering and exiting the terrace is calculated and displayed in real-time, with a traffic light system displayed to indicate when it's safe for people to enter as and when capacity is reached and reduced.
Mikael da Fonseca, Sales Director at Philips Professional Display Solutions told us "We're delighted to have been able to support Osuuskauppa PeeÄs in the safe reopening of its Apteekkari restaurant. At Philips Professional Display Solutions, we pride ourselves in and feel a great responsibility for bringing new products and solutions to market to meet the needs of our customers. In this extreme instance, we were able to foresee and respond immediately to the conditions caused by COVID-19, and respond to their very sudden changing needs to create a solution that, in January this year, did not appear on any roadmap."
The displays are also used to communicate marketing messages and promotions to customers, whether waiting or not – ensuring investments are maximised and future-proofed.