Signagelive's new Broadcast Player (rapidly developed during lockdown and released April, 2020 [1]) is helping Kinaxia Logistics to engage with their employees during these times of uncertainty.
The Broadcast Player was introduced in order to help Signagelive's existing customers and partners, to communicate key messages to their own teams whether they are in or out of the office – the Signagelive Broadcast Player is available for free to anyone, anywhere to use until the September 30, 2020, Ed – and that is exactly what Kinaxia Logistics are doing.
Every Friday, a weekly update from their CEO Simon Hobbs is sent out to all employees, whether working or on furlough, which provides an update of the business. Unlike email which is difficult to track and figure out how many people have opened and read, using the Signagelive Broadcast system it is easy to see how many people have engaged with or viewed the video.
Kinaxia Logistics told us that "As employees begin to return to the offices when lockdown has eased, communications using Signagelive will be shown on screens across the group. Face to face communications during the UK's lockdown has of course been severely impacted, but platforms such as Signagelive, Zoom and Microsoft Teams have made it easier and more efficient for us to communicate than we could ever have imagined."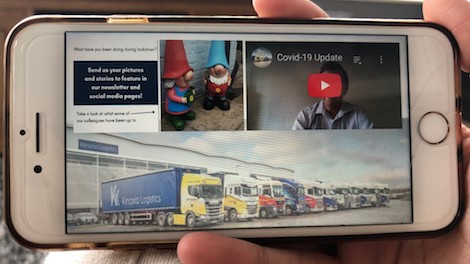 The Signagelive Broadcast Player allows for full-screen playlists or multi-zone layouts to be created and published to a weblink. The weblink can then be shared with your team for them to view on their devices. Any updates to the content will automatically be updated and displayed to the viewers you have shared the weblink with.