Adrian J Cotterill, Editor-in-Chief
Now would appear to be a weird time to launch an exhibition of any kind, let alone a new AV-based 'trade show' aimed at the casino and entertainment industry but that is exactly what Mike Brown-Cestero, QI (NV), CTS-I, who describes himself as a consultant, contractor and conventioneer, is trying to do.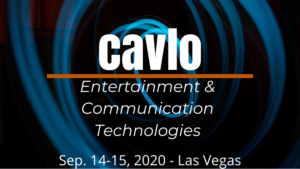 Cavlo is described as a two-day event focused on commercial entertainment and communication technologies that will put commercial A/V/L manufacturers, specifiers, integrators and end-users together under one roof in Las Vegas,
It's not really two days as we note that the show opens with a poolside reception on Monday, September 14 (5 – 7:PM) and the show floor will only be open Tuesday, September 15th from 9:AM – 5:PM. All events will take place at The Ahern Hotel & Convention Center (formerly the Lucky Dragon), 300 W Sahara Avenue, Las Vegas. As each exhibit space comes furnished (table/two chairs, wastebasket and power) with no drayage, handling or union fees it seems as though this is going to be more like a Showstoppers event, i.e. a hotel ballroom with same sized tables around the edge than a trade show per se.
Mike Brown-Cestero was quoted as saying "Six of the ten AV-focused trade shows that were scheduled to be in Las Vegas in 2020 canceled their 2020 event. Cavlo will get those exhibitors and attendees back face-to-face for the first time in Vegas in 2020; we'll have the full experience: exhibit spaces, discussion panels, demo rooms and training sessions. If still recommended at the time, masks will be mandatory and we've already secured thermal cameras and tablets for quick, hassle-free temperature checks. We're committed to a safe, professional working environment that will help instill confidence in conventioneers and bring them back to Vegas again".
There are two discussion panels;
Tuesday morning sees 'UCC Has Gone Mainstream: The New Normal In Workplace Design' which will feature Mark Coxon of Tangram interiors, Kevin Potts of Coherent Design and architect Zach Broyles, AIA of IZ Design.
The second discussion panel on Tuesday will bring together live production veterans Garry McGinness of Boyd Gaming, Dan Abdalla of 4Wall and Kim Scott from Intrigue Shows to discuss 'The Show Must Go On – But How?'
There are also a limited number of training room time slots and demo spaces available.