Adrian J Cotterill, Editor-in-Chief
Now would appear to be a weird time to launch an exhibition of any kind, let alone a new AV-based 'trade show' aimed at the casino and entertainment industry but that is exactly what Mike Brown-Cestero, QI (NV), CTS-I, who describes himself as a consultant, contractor and conventioneer, is trying to do.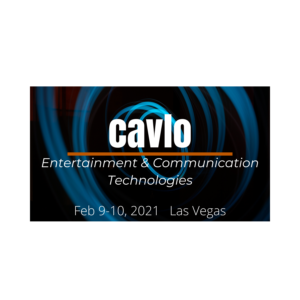 Cavlo is described as a two-day event focused on commercial entertainment and communication technologies that will put commercial A/V/L manufacturers, specifiers, integrators and end-users together under one roof in Las Vegas.
Originally scheduled for September 14-15, 2020, i.e the same week as what-was September's #DSE2020, then re-scheduled for February 9-10, 2021, it has now been moved again to Wednesday and Thursday, April 7-8, 2021.
All events will take place at The Ahern Hotel & Convention Center (formerly the Lucky Dragon), 300 W Sahara Avenue, Las Vegas. As each exhibit space comes furnished (table/two chairs, wastebasket and power) with no drayage, handling or union fees it seems as though this is going to be more like a Showstoppers event, i.e. a hotel ballroom with same sized tables around the edge than a trade show per se.