Adrian J Cotterill, Editor-in-Chief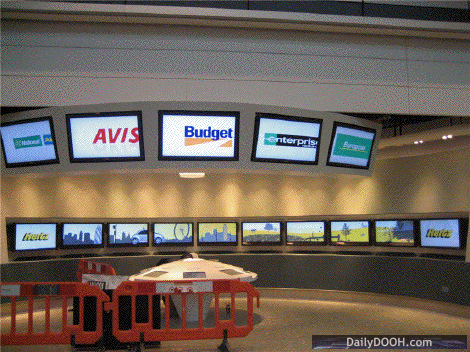 At London Heathrow's T5, customers will have seen the Car Hire companies (come) together in one place rather than have the more usual, individual concession stands (as at other airports). The picture here shows what we believe might be a Siemens installation
Close up, it looked similar to the Siemens installation at one of London Heathrow's Car Parks (the Terminal 5 Car Finder Project recently featured on the BBC) and if so then we would not be surprised if it was (also) using AMX Inspired Signage technology.
We haven't seen a press release about it yet but we did admire the dozens of synchronised screens all over the place.
We noted 10 screens at eye level, used it looks like, purely for branding purposes specific to the various Car Hire brands, another 5 overhead synchronised screens used also for branding and another 6 (not shown in the picture) interactive screens around the central console for actual information on how to make a booking phew!
If it is Inspired Signage then it looks like they have had a great start to 2008 with projects we know about already for St Pancras International (previously blogged), an LED partnership with Lighthouse Technologies for Lords Cricket Ground (3 giant LED systems) and the Terminal 5 Car Finder Project mentioned (and blogged) previously.