In response to the #Covid19 pandemic and its impact on the SME community, Elevision in conjunction with its programmatic partners, TPS Engage and Broadsign Reach, has announced the extension of its 'Support your Local Community' initiative where selected small businesses will have the opportunity to book and deploy a campaign using new #AdTECH solutions now available to Elevision.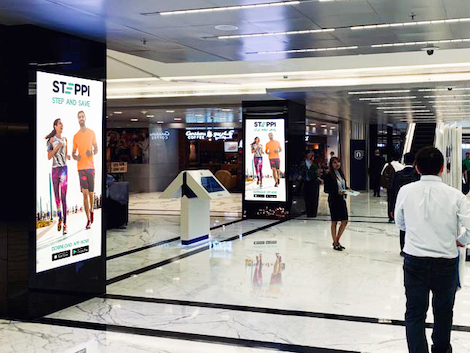 Back in May the 'Support your Local Community' initiative was a big success in helping over 80 Dubai and Abu Dhabi based SMEs use the $1.000.000 advertising fund to promote their businesses across the region.
For the next phase, Elevision will offer a select number of businesses the opportunity to plan, book and execute a campaign using programmatic technology. By using programmatic, these clients will be able to independently activate and manage their campaigns, hyper targeting their audiences while deploying tactical campaign triggers – ensuring maximum impact and efficiency in their targeting objectives.
Elevision operates over 1200 Digital-out-of-Home advertising screens in commercial and residential communities across the UAE that are powered by Broadsign's CMS and player software. Elevision's recent adoption of the Broadsign Reach programmatic SSP (supply side platform) has allowed it to be the first OOH media supplier in the Middle East to successfully launch Digital-Out-of-Home programmatic campaigns. Now with its most recent tie up with TPS Engage – a context-driven programmatic DSP (demand side platform), advertisers in the Middle East and abroad will have unfettered access to book and launch Digital-Out-of-Home programmatic campaigns across Elevision's network. Elevision's programmatic platform will allow advertisers to target viewers across some of Dubai and Abu Dhabi's most iconic commercial districts and premium residential communities such as Dubai International Financial Centre (DIFC), Dubai Marina, The Palm, Jumeirah Lakes Towers (JLT), Business Bay, City of Lights and more.
Niall Sallam, CEO Elevision Media, told us "As the economy begins to show signs of life and we all emerge from lockdown, it remains as important as ever for brands to maintain share of voice. By extending our SME support initiative, we continue to do our part in supporting the local economy. One of the big takeaways from this pandemic is that businesses large and small need the ability to react fast and in real-time with their marketing efforts. 'Easy on – Easy off' is the mantra I continue to hear from industry experts and brands alike. This means activating an ad campaign promptly when the time is right for a particular business, and equally pausing the campaign instantly if deemed necessary. In a regional first, we are now deploying programmatic technology across Elevision's Digital-Out-of-Home network to provide our advertising clients with the same dynamic flexibility they are accustomed to when booking online campaigns."
After launching commercially in 2018 in Europe, TPS Engage has gained significant traction in several markets internationally. Operating as a contextual programmatic Demand Side Platform their technology enables advertisers to maximize OOH advertising budgets while helping media owners monetize remnant inventory and improve their booking and deployment workflows. Since connecting to Broadsign Reach, TPS Engage now has over 100,000 Digital-Out-of-Home screens connected worldwide and is fast becoming a widely adopted programmatic platform in the industry.
Bogdan Savonea, CEO TPS Engage, said "Ever since we started developing our technology for the Digital Out of Home sector, we envisioned the future of the industry as a world where inventory is easily accessible, context is king and decisions are data-driven. Despite our clear view of what was to come, we could not have imagined a better partner than Elevision Media, which has their sight firmly set on becoming a world-class pioneer DOOH media operator. We're thrilled to have joined the SME support initiative and will always strive to assist new initiatives in the Out of Home space".