Adrian J Cotterill, Editor-in-Chief
Branded Uber Boats will travel from piers along the Thames from Putney to Woolwich as Uber today revealed its first permanent commuter boat service launching in London with Thames Clippers.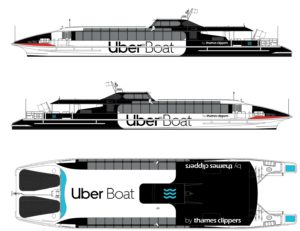 Passengers can book tickets via the app, and then scan a QR code to board the Uber Boat.
The service will still be wholly run by Thames Clippers who are majority owned by the O2 arena operator AEG.
Thames Clippers currently operates a fleet of 20 boats on the River Thames, with departures from 23 piers. It relaunched services on June 15, 2020 after the coronavirus shutdown, with reduced seating available and a requirement for face masks to be worn at all times.
Jamie Heywood, Uber's general manager for northern and eastern Europe said "Many Londoners are looking for new ways to travel around the city, particularly when they start commuting back to work".
Some 4.3 million passengers used the Thames Clippers service last year. The new branding arrangement (i.e the proposed livery shown above) will not be seen until late summer.
The service had previously been sponsored by MBNA, although that deal did not including naming rights.