This week, Pursuant Health announced that Screenverse is now an authorised reseller of its Retail Pharmacy Digital OOH Network. Screenverse is a new entrant to the marketplace, having been incorporated by former Vistar Media exec, now Co-founder and CEO, David Weinfeld and former DOmedia exec, Adam Malone in April 2020.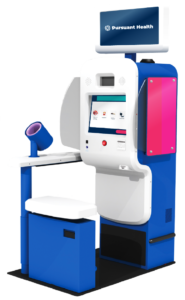 Henry McAlpin, SVP Sales, Pursuant Health told us "We are excited to move forward with Screenverse as they have experiences and strategies that will help us maximize our sales across the existing and emerging OOH sales channels. They are experts in programmatic OOH and will help us sell our media space directly to OOH agencies large and small".
Screenverse Co-founder and President, Adam Malone told us "Our goal is to help advertisers and brands communicate effectively within this resilient and growing channel. We believe brand marketers will want to be where the action is, where the attention is, and where important decisions are being made. Healthcare is 18% of the US economy and there are tectonic changes afoot. We are thrilled to be aligned with Pursuant Health as they provide critical data and services to patients nationwide."
Pursuant Health (formerly SoloHealth) has been on a mission for almost a decade [1] to make healthcare convenient. Their health kiosk is an FDA-Cleared Class II Medical Device that provides free biometric screenings and clinically valid health assessments in retail pharmacies throughout the country. With a nationwide network of more than 4,600 kiosks, including at Walmart pharmacies and select CVS locations, they claim to be easily accessible for 90% of the U.S. population.
Their platform enables users to identify risks, track data and monitor conditions outside of the physician's office, and they have conducted over 260 million health screenings to date.