Adrian J Cotterill, Editor-in-Chief
H-E-B, consistently rated one of the top grocery retailers in the US, and STRATACACHE, leaders in marketing technology and in-store customer experiences, have announced an expansion of a successful multi-year innovation partnership, focusing on delivering new actionable data and insights to create an even greater customer shopping experience.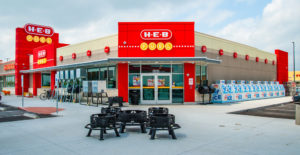 Paul Tepfenhart, Senior Vice President of Omnichannel Commerce & Emerging Technology at H-E-B told us "STRATACACHE has proved to be a valued innovation partner with a clear history of delivering customer-focused solutions. At H-E-B, we never stop looking for ways to improve our experience by providing the best customer and partner solutions. Our relationship with STRATACACHE moves us forward on this mission."
H-E-B continuously seeks improvement to the customer shopping experience. Using sensor-based insights gathered from STRATACACHE's Walkbase solution, H-E-B gains a richer understanding of the service level in their stores, and will use the actionable data to advance many aspects of the in-store shopping experience. With the expansion of the existing Walkbase advanced solution, H-E-B will gain an even richer understanding of how to better serve their customers.
Chris Riegel, CEO of STRATACACHE said "H-E-B is a great retail partner to bring STRATACACHE's customer insights solutions to stores. Well known for a laser focus on delivering the best customer experiences, H-E-B has made continuous investments in technology that directly optimize their customers' journey, making it more relevant and more efficient. We have built a strong partnership over several years, and now H-E-B has new customer insights to better serve their customers."
H-E-B, with sales of $28 billion, operates more than 400 stores in Texas and Mexico. Known for its innovation and community service, H-E-B celebrates its 115th anniversary this year. Recognised for its fresh food, quality products, convenient services, and a commitment to environmental responsibility and sustainability, H-E-B strives to provide the best customer experience and lowest prices. Based in San Antonio, H-E-B employs over 120,000 Partners in Texas and Mexico and serves millions of customers in more than 300 communities.