Adrian J Cotterill, Editor-in-Chief
It is rare these days that I am even slightly impressed with paid-for research documents but I have to say that the folks over at Statista and Amy Watson in particular, a researcher specialising in the North American and global media industries with a focus on radio, television, film, books, and publishing, has done a truly outstanding job with a report that looks at the changes in global media consumption during the 2020 coronavirus pandemic.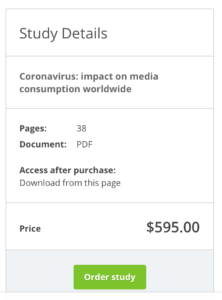 With the global effects of people isolating, and large events cancelled, the report tells us that 'news' became more important than ever, with nearly 70% of the global population trying to catch more news than ever before.
The direct correlation of media consumption and containment shows how immediate the effects on everyday life were: News consumption in each country generally grew in tandem with the number of confirmed coronavirus cases recorded there. At the same time, news audiences in countries on lockdown were among the most engaged. With 58 percent of Italians checking coronavirus news several times per day in the first week of March 2020, compared to just 15 percent of consumers in neighbouring France and Germany, where the spread of the pandemic started later. When looking at where people got their news, Italians were the most likely to check local and national government sources, and rely on the government more than on classic news media outlets. In contrast the U.S. and United Kingdom showed a clear aversion to government news sources. However, this onslaught of information that consumers were facing, will contribute to serious news fatigue among readers.
Smartphone usage also increased, by a staggering 70 percent globally. More than half the global population spent more time watching videos on streaming platforms.
Mid-March 2020 saw increases of up to 44 percent in streaming time. Streamers of video on demand across the globe increased watching content during what would ordinarily be work time. Looking at the generational divide, media consumption rose across the board. With Gen Z being the most active consumers of online media – but also most likely to pick up a book or a newspaper.
Meanwhile, young consumers' news preferences left them exposed to more misinformation than their older peers. A survey in the UK found that 60 percent of 16 to 24-year-olds used social media for coronavirus updates and were by far the most likely group to have seen false information about the outbreak. This emphasized the ongoing problems consumers face when trying to keep informed and affirming a strong connection between exposure to false news and social media.
This 38 page report can be purchased for USD 599 here. I don't think I have ever said this before, but it is well worth it.