Earlier this week Foxconn Group's Innolux demonstrated a 55-inch rollable Mini LED emissive display featuring active matrix (AM) driving technology. The panel maker also introduced new display products targeting health and entertaining applications.
The rollable display adopts flexible PCB backplane and features high curvature, brightness, contrast and saturation. There was no announcement or discussion on what resolution this product is.
However it seems comparable to the rollable OLED panel LG has also demonstrated. Innolux claimed that direct emissive Mini LED displays have edges in reliability and production cost, enabling them to outpace OLED products in applications like public information display (PID). The company also targets commercial and meeting room applications and aims to mass produce the Mini LED rollable display next year.
Innolux also unveiled a 31.5-inch 4K Mini LED backlit gaming monitor featuring over 2000 Mini LED chips. Combining the company's pixel level local dimming technology, the product delivered clear and pure darkness and reached 1000 nits brightness.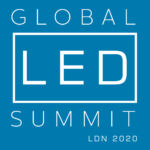 On Wednesday December 2, 2020 Omdia's Julie-Anne Badier, Research Analyst – Digital Signage | Technology Research Products & Solutions will be presenting 'The LED Video Market Evolution in Western Europe' at the in-person Global LED Summit.
This event will take place at the #SamsungKX Experience Centre in King's Cross, London.