Adrian J Cotterill, Editor-in-Chief
Intersection, the leading smart cities media and technology company, this week announced that it has partnered with Facebook to support its 'Power the Comeback' program. As part of the deal, Facebook is sponsoring free outdoor advertising for small businesses across New York, Los Angeles and Chicago. The collaboration will help small businesses drive awareness and foot traffic through targeted digital Out of Home advertising in their communities. The Facebook-sponsored campaign began on August 24, 2020.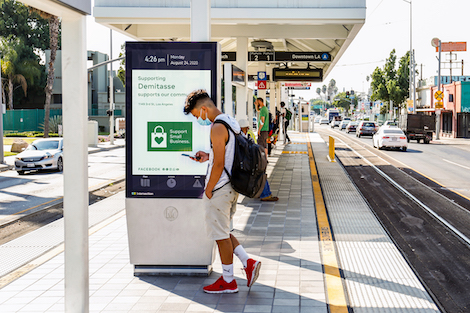 Michael Rosen, CRO at Intersection told us "After months of closures and economic uncertainty, businesses are more eager than ever to get back in front of consumers who are spending more time outdoors and planning their own personal comebacks—where to dine, where to go, and what to see. Many small businesses have seen their advertising and marketing budgets diminished due to COVID-19, making it increasingly difficult for them to get the word out that they're open again. By partnering with Facebook, we are thrilled to be able to help drive awareness and foot traffic for the local businesses who need it most."
Small businesses are often the lifeblood of many cities and have been hit hard by the economic impact of #COVID19. With over 1.6 million small businesses currently operating within Intersection's digital footprint, their 'Power the Comeback' program seeks to help small businesses across the country get back on their feet by providing free advertising through large business sponsorships. Facebook is the program's first sponsor.
Out of Home has proven to be a very effective media channel for local businesses. The 2019 Cuebiq Footfall Attribution Benchmark report found that brick-and-mortar brands that utilize OOH will boost footfall traffic 80-120%. Similarly, the 2020 Nielsen Study on OOH found that 1 in 5 passersby immediately visited local businesses after seeing a directional OOH ad, and 74% of those customers made a purchase. With Facebook's support of the Power of the Comeback program, small businesses will have the opportunity to welcome consumers back and drive traffic to their stores through 175 million donated impressions across thousands of Intersection's digital OOH assets.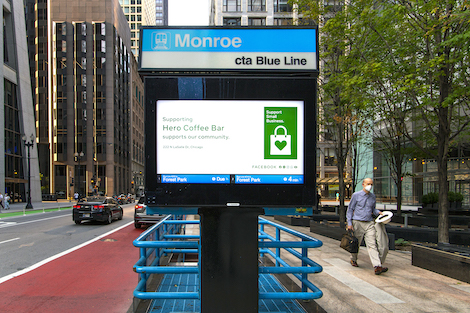 Mindshare, Kinetic and Droga5 provided strategy, media planning and creative support for the Facebook sponsored campaign.
Stephanie Hart, owner of Brown Sugar Bakery in Chicago said "All of our funds are going toward keeping staff, so even though marketing is important, it's not a place we can allocate our limited dollars right now. Our motto is 'life is sweet.' We've got good cake, we just want to make people happy and be a bright spot in Chicago. Maybe seeing our ad will allow us to do that for more people and help keep my folks employed."
Intersection's media network extends across the top U.S. media markets, including New York, Los Angeles, Chicago, Philadelphia, San Francisco, Dallas and Seattle, in addition to other major regions such as Austin, Charlotte, New Jersey, Houston, Minneapolis, Pittsburgh, Portland and more. In all, Intersection's network reaches over 50 million people through more than 400,000 digital and static assets nationwide.