Adrian J Cotterill, Editor-in-Chief
Creating a lovely OOH Father-Daughter duo, Amber Williamson has joined her father Marty at Williamson & Associates as a Vice President.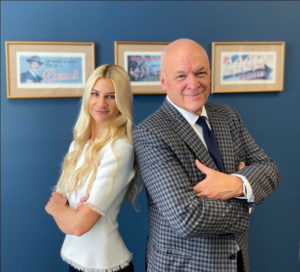 Amber has grown up around the Outdoor Advertising Industry, hearing sales calls from the day she was born and later, when Marty Williamson went out on his own, witnessing every single aspect of the Industry from structure developments to vinyl installations as early as age nine.
Marty Williamson told us "When I formed Williamson & Associates in April 2017, my goal was to grow the business and eventually expand from a 1 man show to a team. To date, I have brokered almost 40 transactions, 11 so far this year. My business has grown to the extent that it is now time to bring someone else on. I can't think of a better person than Amber, she is exactly what I need. She has the perfect knowledge base, experience and skill set to compliment me. Not to mention, billboards are in her blood. Having her on board will improve our service and productivity tremendously and help take Williamson & Associates to the next level".
Amber Williamson brings a Bachelor of Science in Psychology from the University of Georgia and over 10 years of experience in sales and marketing, most recently spending four and a half years with Clear Channel Outdoor Atlanta as a very successful Account Executive gaining extensive industry knowledge selling various OOH advertising products into markets across the United States.