Ahead of AdTECH:OOH – Sydney which will take place next Wednesday September 23, 2020, DailyDOOH's editor in chief Adrian J Cotterill sat down over Zoom with Joe Copley, Seedooh's Director of Partnerships Global and Managing Director, Europe & APAC to discuss what is in store for attendees. Joe put the agenda together and will be chairing the conference.
Now in its second year, AdTECH:OOH – Sydney has seen a slight reduction in the number of attendees due to #Covid19 social distancing measures put in place by our hosts HOYTS Cinemas. Having said that, the conference will still see just under 100 industry folks who are keen to meet up in-person (many for the first time this year), listen to expert speakers, and take part in informed debate with the day's panel discussions.
The event is SOLD OUT but usually some tickets do become available in the days leading up to the event. If interested, you can register for the waitlist here.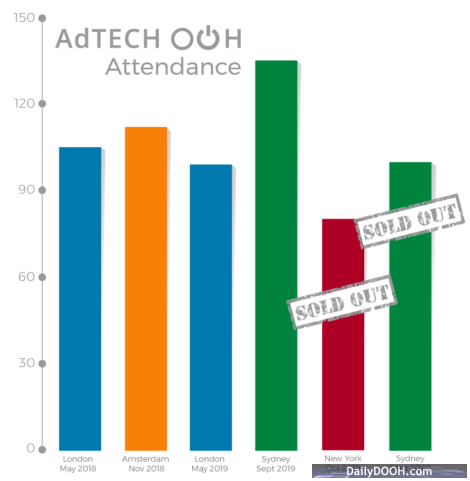 In September, 2019 the AdTECH:OOH – Sydney Conference attracted 135 attendees which made it the largest Ministry of New Media #AdTECH event ever held.
#ff @coppuz @DailyDOOH @SeedoohPlatform